Tomorrow July 18 begins in Biar, Alicante, Spain a new edition of the Jornadas Trombonísticas.
It has been 12 years and 13 editions since the days opened their doors to the public. Since then, national and international trombonists have participated in the festival, as well as artists and musical formations of great level, all of which has been attended from the professionalism and the good work of the 2i2quartet.
Durante tres días, Biar estará lleno de música, no solo durante el día con clases y diferentes actividades organizadas, sino también con su festival de conciertos nocturnos, que cada año llegan cargados de música de alta calidad.
Poster Festival of Night Concerts
MÉTALLON
Valencia Brass Band By Inel
Wednesday 18 at 22:30h in Plaça de la Constitució:
VARAPALO
2i2quartet, Álvaro Perucho (Flamenco guitar) and Manu Masaedo (flamenco percussion)
Thursday 19 at 22: 30h in Plaça de la Constitució.
LE DANCING PEPA SWING BAND
Friday 20 at 22:30h in la Plaça de la Constitució: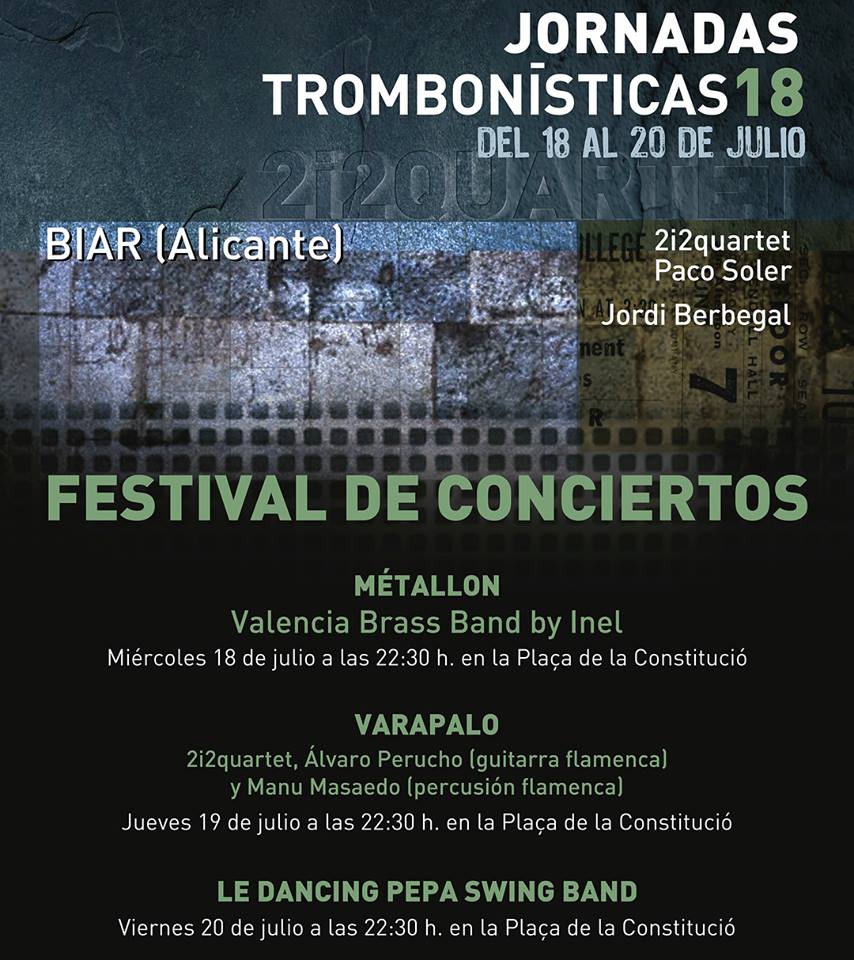 2i2 Quartet Hosts of the festival in previous editions:
Profile in Innovatrombone: Viriato-Miguel J. Martínez
http://www.innovatrombone.com/trombonistas/viriato—miguel-j.-martinez-martinez-115
Profile in Innovatrombone Kiko Juan Rodríguez:
http://www.innovatrombone.com/trombonistas/kiko-juan-rodriguez
Perfil in Innovatrombone Juan Carlos Matamoros:
http://www.innovatrombone.com/trombonistas/juan-carlos-matamoros-cuenca-49
Innovatrombone: