From Innovatrombone we are pleased to announce that our collaborator
Jacques Mauger, professor of trombone at the HEM Conservatory of
Lausanne (Switzerland) and artist of the Courtois brand will be
present at the Hungarian Trombone Bootcamp and at the Spanish Brass
Alzira 2018 Festival.
Hungarian Trombone Bootcamp: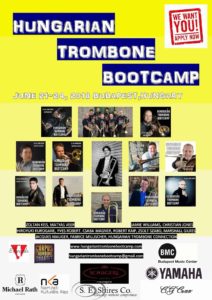 Hungarian Trombone Bootcamp is one of the main trombone festivals in
one of the most exciting cities in Europe. The second edition of the
festival will take place from 21 to 24 June 2018 in Budapest, Hungary.
The event offers only 50 premium courses for participants (including
jazz) and an unlimited number of basic courses. Concerts, master
classes, private lessons, chamber music, trombone ensemble, warm-up
sessions, tenor and bass trombone competition and many other events.
Artists:
Robert Kaip, Zoltan Kiss, Jacques Mauger, Hiroyuki Kurogane,Fabrice
Millischer, Jamie Williams, Zsolt Szabo,Christian Jones, Matyas Veer,
Jazz Players Marshall Gilkes, Yves Robert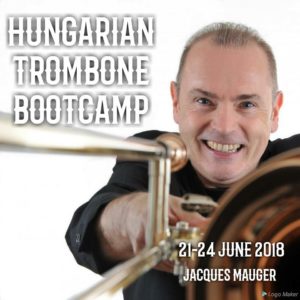 Spanish Brass Festival Alzira: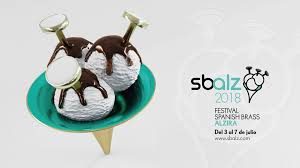 One of the most important festivals in Spain and with a strong
international projection, the Spanish Brass Alzira Festival presents
its 17th edition.
For this occasion, the festival presents a series of new features in
the teaching staff, such as Miklós Nagy or Arnaud Boukhitine, or
historical figures who have already been through the event, such as
Jens Lindemann or Nancy Joy. Spanish Brass will also present its new
show with Carles Dénia, with new arrangements by Ramón Cardo, and will
close the festival with one of the young bands with the greatest
international projection, the Sant Andreu Jazz Band and its creator
Joan Chamorro.
Between classes, workshops, concerts and exhibitions, Jacques Mauger
will present the trombone concert Tbon and Jacques, composed by Ferran
Ferrer.
For this festival the trombone teachers will be: Jacques Mauger,
Carlos Gil, Inda Bonet and Alberto Urretxo.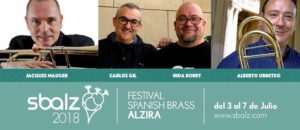 Innovatrombone: