From Innovatrombone and in collaboration with the Latin American Trombone School, we are pleased to present the activity "Study Routine among Friends"
Next Tuesday May 26th we will have the presence of our friends and collaborators Alejandro Biot, Pedro Carrero and Alejandro Parra, to offer you an activity focused in a very special way.
Teachers:
Alejandro Biot Sanchís
Professor of trombone at the Camille Saint Saëns Conservatory and assistant professor at the CRR in Paris.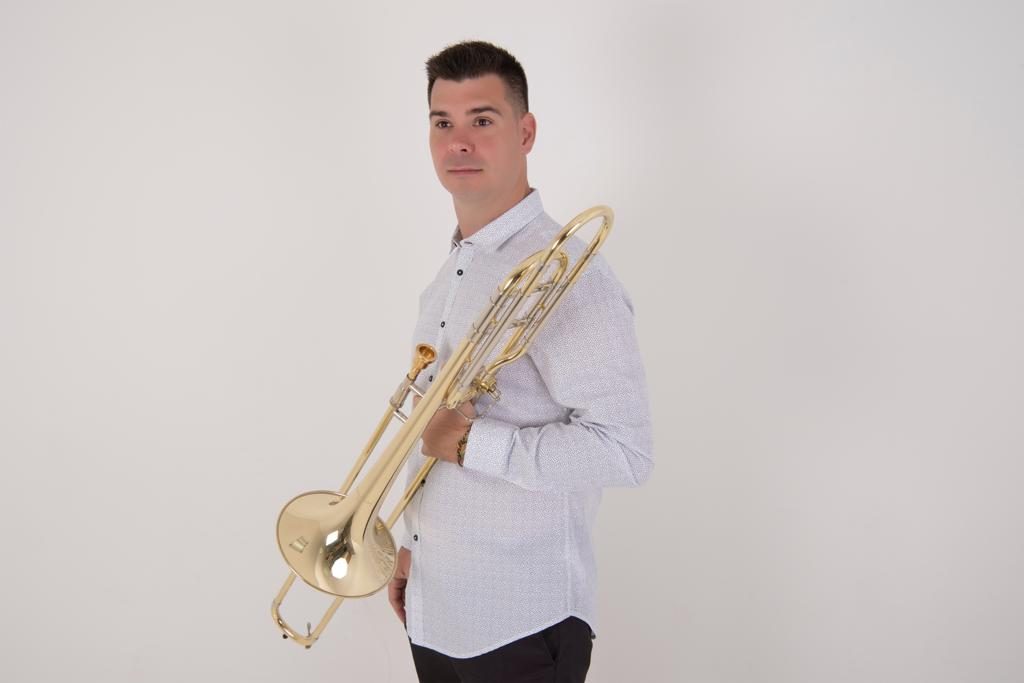 Valencia (Spain), studies trombone at the Conservatory of Alicante, where he obtains his award in trombone. He continued his studies at the CRR in Paris with Jacques Mauger, where he obtained his performance and concert diplomas. During his professional career, Alejandro Biot has acquired a wide and solid experience as a concert performer and pedagogue among others: Banda de la Federación de Sociedades Musicales de la Comunidad Valenciana (FSMCV), Orquesta de la Universidad de Alicante (OFUA), Orquesta joven de los países catalanes (OGIPC), Jove Orquestra de Valencia (JORVAL), Orquesta Sinfónica de Alicante (OSA), World University and Choir (WOUCH), Orquesta sinfónica de la Ribera (OSR), Orquesta Sinfónica "Parisian Ensemble", UNESCO Orchestra, Orquesta de la Trinidad.
He has played under the direction of chefs such as Enrique García Asensio, Joan Iborra, José Antonio Rubio, Mighnia Ingñat, Enrique Muñoz, José Manuel Palau, Edmond Colomer, Manuel Galduf and Salvador Brotons.
He has won several competitions: finalist in 2006 at the Concurso Ciutat de Xàtiva (Spain), winner of the Concurso Juvenil Villena (Spain) in 2008, as well as the Concurso Nacional de Trombón Les Clés d'Or in 20012 in Villemomble – Paris .
Alejandro Biot studied with renowned masters such as Rafael Tortajada Fernández, Raúl Seguí, Josep Alcover, José Vicente Soler, Javier García Fernández and Jacques Mauger. He also participated in master classes with Jörgen van Rijen, Gilles Millière, Enrique Ferrando, Indalecio Bonet, Baltasar Perelló, Simeón Galduf, Rafael Tortajada, Ricardo Casero, Joan Real, Javier Lechago, Jaques Mauger, Michel Becquet, 2i2 Quartet, Juan Carlos Matamoros, Ximo Vicedo, Carlos Gil.
He participated as a teacher in the Unión Musical de Anna (2007), the Banda Sinfónica Alcántara del Xuquer (2007), Banda Lira Castellonense (2008 and 2009), summer course Ribera Brass (2008-2012).
He currently teaches at the Camille Saint Saëns Conservatory in Paris, as well as at the CRR in Paris as an assistant professor.
Alejandro Biot plays Antoine Courtois' trombones.
Pedro Carrero
Conductor – teacher at the National Trombone School and soloist trombone in the Simón Bolivar Orchestra of Venezuela.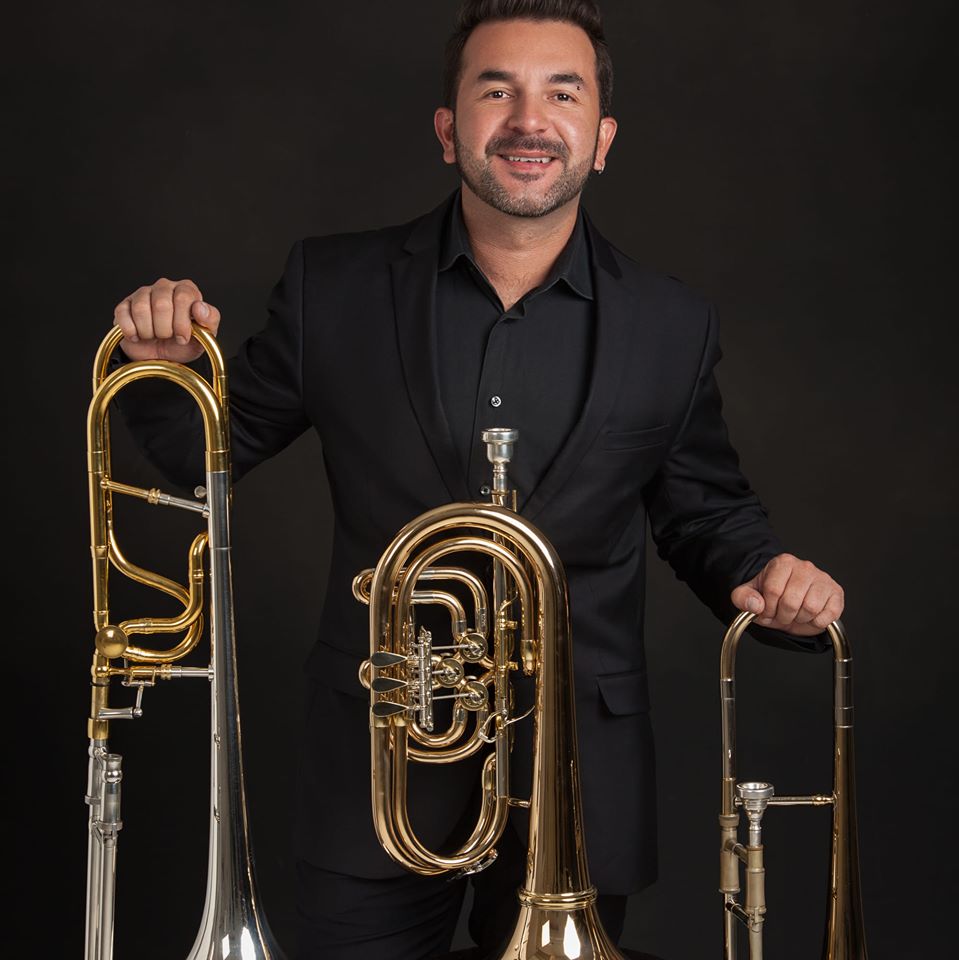 Considered one of the most outstanding and recognized trombonists in his country, he was born in San Cristóbal on January 27, 1982. Descending from a great and prestigious family of musicians, mostly trombonists, he began his musical studies at the age of 8 with his uncle and teacher Pablo Murillo.
In 1998 the Ministry of the Family and the Presidency of the Republic awarded him the Order "José Felis Rivas" in his 3rd class in recognition of his work for culture, that same year he was decorated in his hometown with the Order "Francisco Javier García de Hevia" in his 1st class, and in 2002 he received, along with his colleagues from the Simón Bolívar Brass Quintet, the Medal of Honor of the City of Sant Yreix, Limoge (France). Much of his work as an interpreter and teacher has taken him to several countries in the Americas, Europe and Asia.
At present Pedro Carrero is the Trombone Soloist of the Simón Bolívar Symphony Orchestra of Venezuela, the Venezuelan Brass Ensemble, the European Brass Ensemble, National and International Professor for the National System of Youth and Children's Orchestras and Choirs of Venezuela and Director of the National Trombone School.
Pedro Carrero is an exclusive artist of the prestigious Austrian brand "Schagerl".
Alejandro Parra
Conductor Escuela Lainoamericana de trombón. Trombone teacher and trombonist at BonAires Brass Quintet.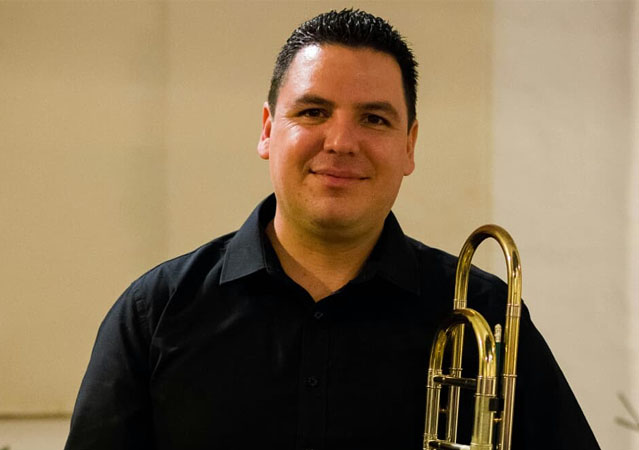 Venezuelan Trombonist currently living in Buenos Aires, Argentina, formed in the Venezuelan System of Orchestras and Chorus in the Trombone by the Masters Carlos Isturiz, Domingo Pagliuca, Oscar Vivenes. He was Trombone Conductor of the Orquesta Sinfónica Estatal de Lara, Euphonium in the Asambleas de Metal de la Provincia, Professor of the Vicente Emilio Sojo Conservatory, Yaracuy Conservatory, Universidad Central Occidental Lisandro Alvarado, Director and Professor of the Trombone School of El Sistema in Lara. Itinerant professor and director of Fundamusical Simón Bolívar.
He has performed as a soloist with different orchestras of the province in Venezuela, participated as a soloist in the Winter Festival of Campos Do Jordao in Brazil, in this same festival he obtained a full scholarship to participate in the master class of trombone and orchestral conducting, Soloist in the Festival Trombonanza 2018 Santa Fe Argentina, participated in Tours and Concerts under the direction of Gustavo Dudamel, Tarcisio Barreto, Claudio Abado, Simon Rattle, Diego Matheuz, Christian Vázquez, Alfredo Rugeles, Mario Benzecry, Ignacio Calderón, Cesar Iván Lara, Roberto Minsuk, Ligia Amado, Rodolfo Saglimbeni, Enrique Arturo Diemecke. Participated in the premiere of the Opera "A Blossoming Tree" in Vienna, Austria.
He has received classes with Masters: Gaspar Licciardone, Michel Bequet, Christian Lindberg, Ian Bousfield, Achilles Liarmakopoulos, Olaff Ott, Enrique Crespo, Ralph Sauer, Bruno Flahu, Miguel Sánchez, Jorgen Van Rijen, Ben Van Dijk, Jacques Mauger, Pedro Carrero , Angel Sánchez, Obeed Rodríguez, Giovani Scarpetta, Bret Baker, David Rejano.
Currently in Argentina, Director of Latin America Low Brass, trombonist in BonAires Brass Quintet, Director and Professor in the Youth and Children's Orchestra Program of the Province of Buenos Aires. Trombonist hired at the Colon Theatre Opera House under the direction of Ulises Marino, Marcelo Ayub and Ezequiel Silberstein, Extra Trombone with the Stable Orchestra of the same Theatre, Trombonist of the Posaunenchor Temperley under the direction of Trombonist Heini Schenebeli, Trombone with Avellaneda Big Band. He participated as a trombonist and guest conductor in the Latin Vox Machine Orchestra, presenting a fanfare committed to the Venezuelan migration in Argentina. He has given Master Class Trombone in the Ministry of Education of Argentina, conferences and training for the best performance in wind instruments.
Study routine among friends:
The Friends Study Routine is aimed at trombonists of all levels, and will be broadcast live from our Facebook page at the time listed below.
Contents:
Mouthpiece Buzz.
Flexibility.
Staccato
Scales.
The duration of the routine is programmed to be one hour long.
At the end of the activity there will be a turn for questions from our audience.
Timetables:
10:00 am Venezuela
11:00 am Argentina
16:00h Spain/France.
Link to our Facebook page: Innovatrombone
Dear friends of Innovatrombone, see you next Tuesday! Thank you!

If you are a trombonist join our community, create your trombone profile, manage your ads and videos at the following link: :Registration
Visit or website:www.innovatrombone.com
Follow us on : Facebook Instagram