From Innova Trombone we have the pleasure of presenting the recent musical album of the Venezuelan trombonist Miguel Sánchez.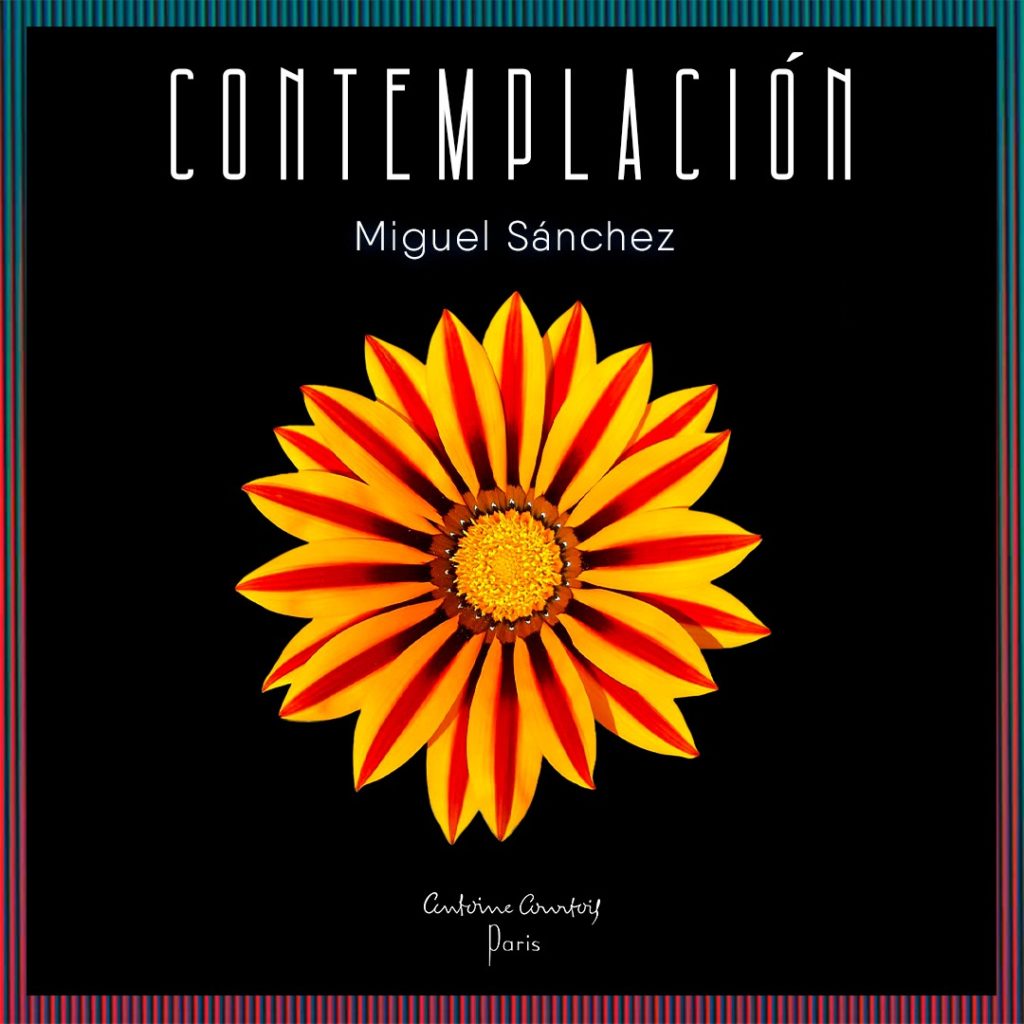 For this we have been lucky enough to talk to Miguel, who has told us in person all the details about the project.
Miguel Sánchez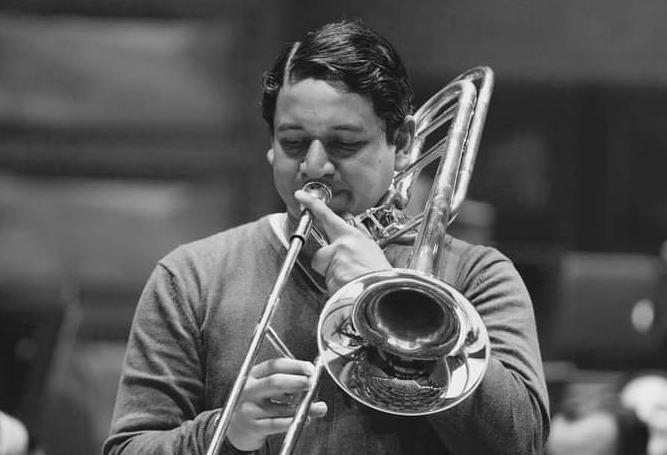 Innova Trombone: Hi Miguel, nice to have you here with us.
Miguel Sanchez: Hello dear friends of innovatrombone, it is a great pleasure to talk to you and I take this opportunity to congratulate you on the hard work you are doing
Innova Trombone: tell us, who is Miguel Sánchez?
Miguel Sánchez: I am a music and nature lover, a dreamer and in constant search of knowledge. I come from a family of musicians and trombone tradition, 5 generations and more than 22 trombonists.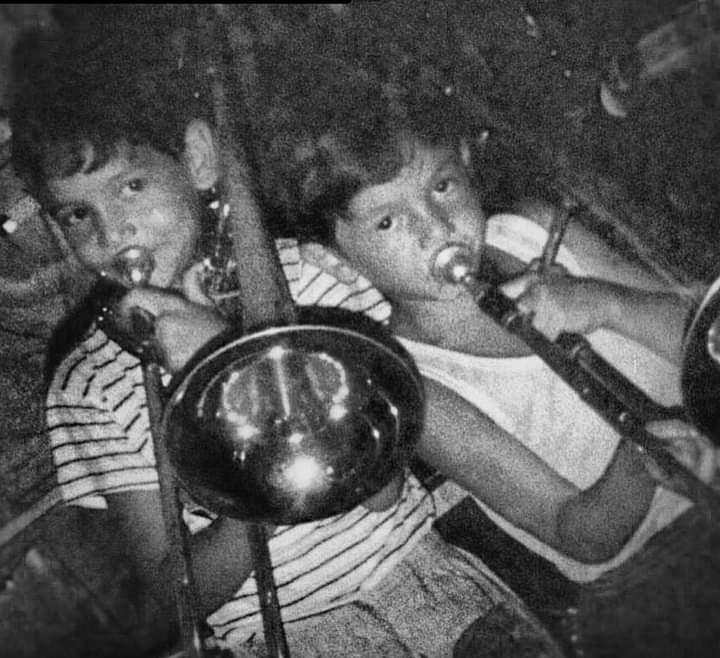 Innova Trombone: Where are you from?
Miguel Sánchez: I am from Venezuela, I was born in the city of San Cristóbal (Venezuelan Andes) I grew up in the western plains exactly in the city of (Guanare) spiritual capital of Venezuela and some time later I went to the capital of the country "Caracas".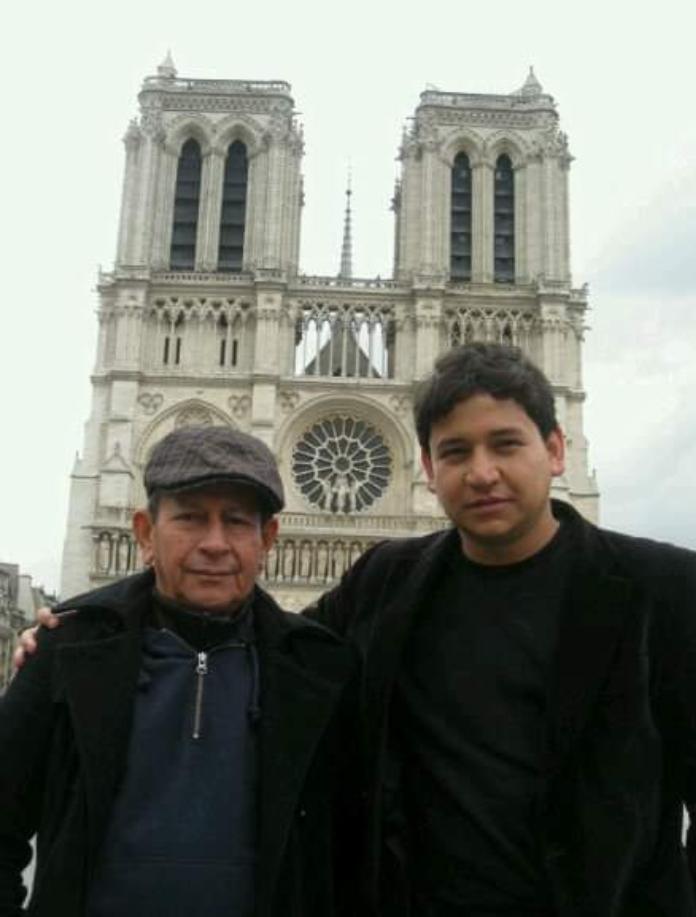 Innova Trombone: Where did you study?
Miguel Sanchez: I studied at the Juan José Landaeta Conservatory with my father Ángel Sánchez, then with Maestro Michel Becquet at the Carlos Alegría Beracasa Itinerant Conservatory,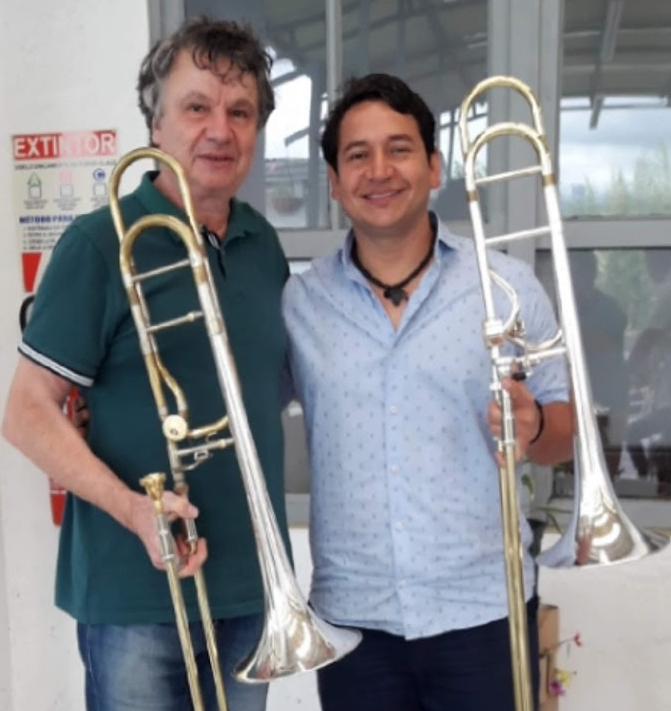 After that a time with Nitzan Haroz in the city of Philadelphia-USA and I finished my studies at the Superior Conservatory of Paris (CNR) with Jacques Mauger.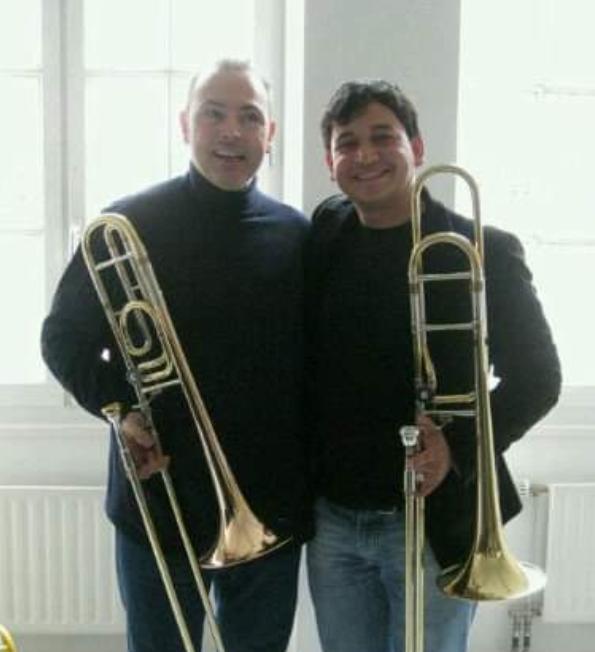 Innova Trombone: Who were your teachers and which of them influenced you the most?
Miguel Sanchez: I had many teachers in addition to those mentioned above with whom I shared wonderful moments. My uncle Pablo Murillo, Eliel Rivero, Jaime Paez, Antoine Duhamel, Lawrence Borden, Scott Harman, and master classes with the most famous trombonists ( Alessi, Lindberg, Ben Van Dijk, Daniel La Salle, Norman Bolter) among others.
Who do I think has had the most influence on me? Michel Becquet, but it would be selfish not to say that everyone has made a significant contribution to what I am now as a trombonist and as a person.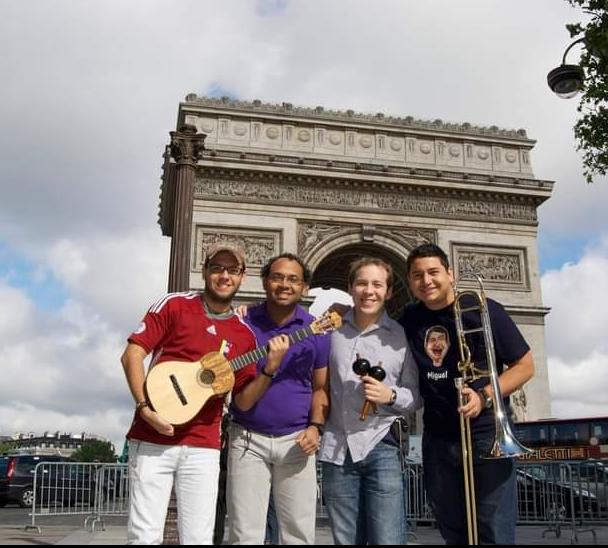 Innova Trombone: Where does Miguel Sanchez work at present?
Miguel Sanchez: I am Head of the Trombone Chair at the Universidad Nacional de San
Juan-Argentina and Trombone Soloist of the San Juan National University Symphony Orchestra.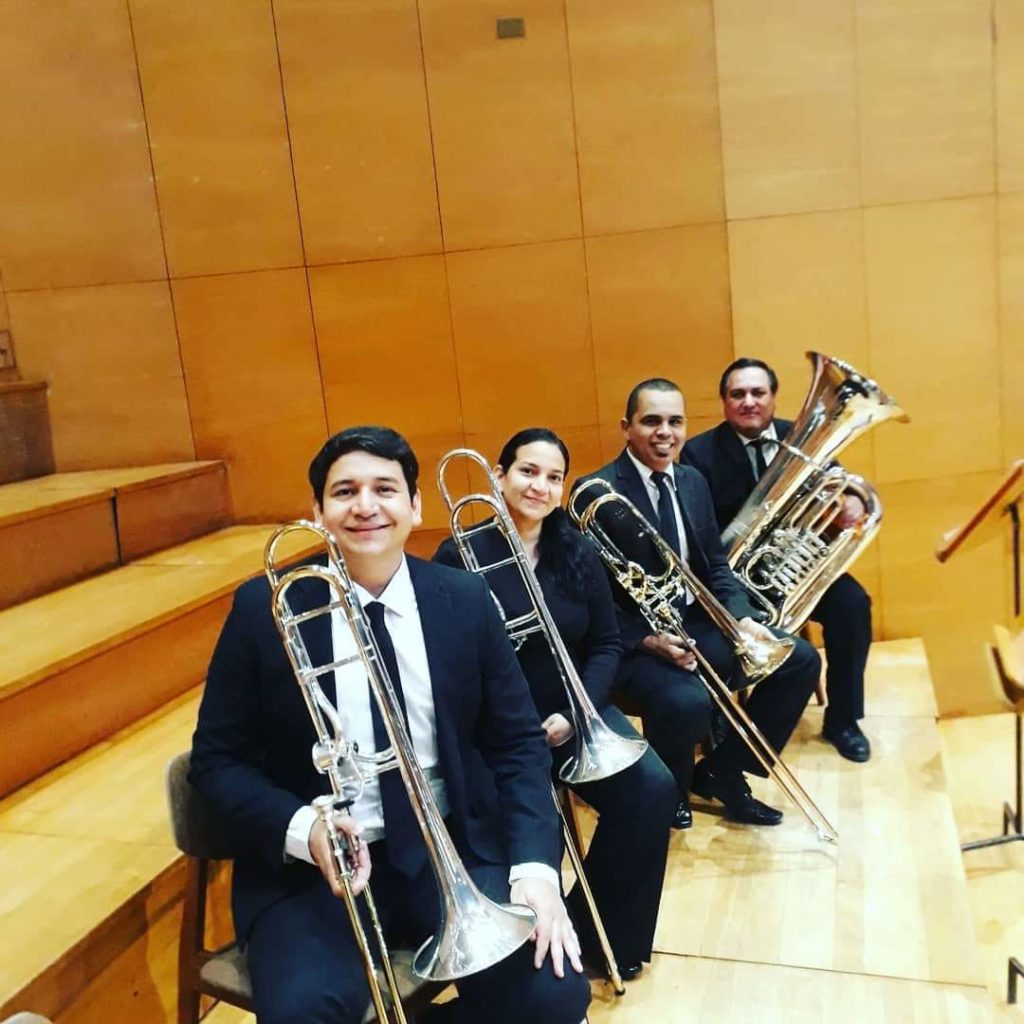 Innova Trombone: Let's talk about your latest work. A CD that has the name What is Contemplation?
Miguel Sanchez: Contemplation is a state I have been in for many years "Contemplation" is being able to be in the meditation of thoughts, in calm, in the pleasure of observing all the changes, nature and its magic, the smile of my sons, it is an introspective way of seeing life, in conclusion it is what I wanted to capture with my instrument in this project.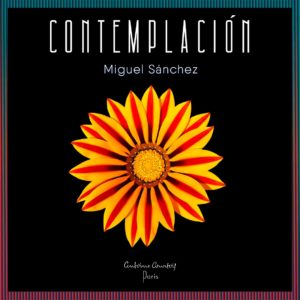 Innova Trombone: What topics can we find in the Cd?
Miguel Sanchez: There you can find a varied repertoire, both original and some adaptations, as well as works written for this album, each with its unique essence and particular history as: Elegy for mippy II by Leonard Bernstein, which was dedicated to Burtie, his brother's pet. Anicora is a wonderful work written by Jhosir Cordova and his father Anibal, who composed it together, and some time later Jhosir's father started from this plan, so for me it has been the most complex work to perform due to the sentimental charge it has, Albinoni's Adagio and Bach's Aria are melodies that adapt very well to the colour of the trombone and on this occasion it was an adaptation by a friend and fellow trombonist Pedro Moya, A Quiet Place is a beautiful song by Ralph Carmichael with beautiful lyrics of encounter with God, Angel of Salvation is an extract of a Melody dedicated to my son Angel Mathias and which I wrote for a project that arose at the beginning of the confinement together with a Venezuelan trombone ensemble" Bestiarii Trombone Ensamble" as a thank you to all those who have been in the fight against covid19. This is why the title "Angel of Salvation, Alfonsina and the Sea" is a zamba from Argentinean Folklore that was written to a distinguished woman who left an immense legacy for Alfonsina Storni's poetry and although her end was tragic, it is still alive through this beautiful song. Las Tonadas del Tío is an arrangement I made of several songs by our great Venezuelan singer-songwriter Simon Diaz who, through his melodies and beautiful lyrics, sings of love and nature. Oblivion by Astor Piazzolla is one of my favourite works and I think it is one of Piazzolla's most versioned compositions, this time with a different touch and using jazz endings I leave you my version. And finally I'm Getting Sentimental Over You by George Bassman, a classic for the trombone, one of those jazz ballads that almost every trombonist knows and wants to play, on this occasion I was able to fuse with typical Venezuelan instruments giving it a different contrast.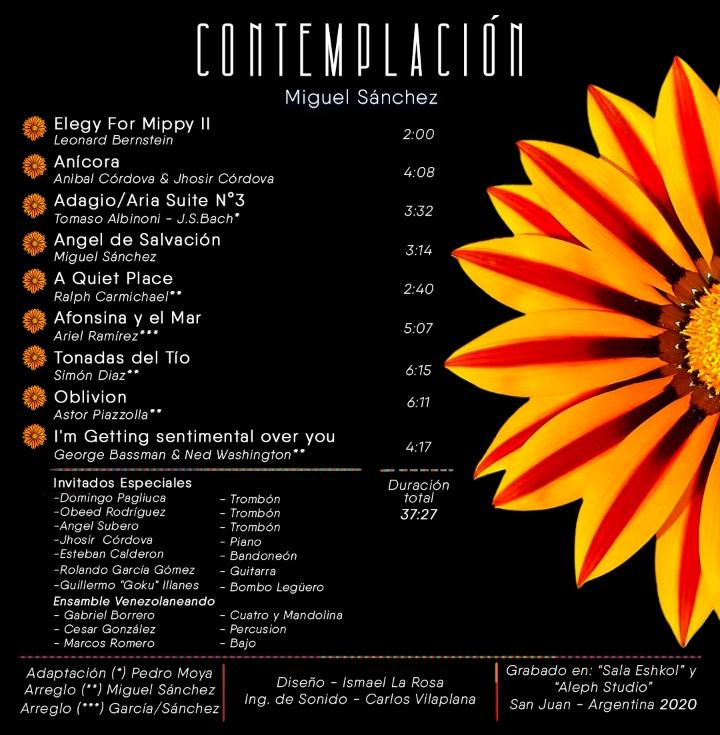 Innova Trombone: We see that several trombonists have collaborated with you in the Cd. Can you tell us about them?
Miguel Sánchez: I'm really pleased to have had musical brothers like Domingo Pagliuca "International Soloist and Trombonist of the Boston Brass". He has been a guide and reference for me and many of the Latin American trombonists. Obeed Rodriguez is a friend and brother we started together under the tutelage of my father, he is currently Bass Trombone of the National Symphony of Chile. Ángel Subero is a trombonist with fantastic conditions to be able to interact with multiple musical genres. He is a professor at Berklee College, head of the brass department at the Boston Conservatory and bass trombone of the Boston Pop.
In addition, I was accompanied by my brothers from the Venezuelan Ensemble which I founded 12 years ago and with whom I recorded my first album "Altura Santa" Venezuelan music on trombone. They are: Gabriel Borrero on cuatro and mandolin, Marcos Romero on bass and Cesar Gonzalez on percussion. And as special guests from here in Argentina Esteban Calderon recognized Bandoneonist, the master Rolando Garcia Gomez on the guitar, great representative of Argentine Folklore and Guillermo "Goku" Illanes on the bass drum legüero (a drum used in the zamba)
Innova Trombone: The Cd is sponsored by the Courtois brand. Can you tell us about what relationship do you have with this prestigious brand of trombones?

Access to trombones Antoine Courtois: Trombones Antoine Courtois
Miguel Sanchez: I have an immense and fraternal friendship with the house Buffet Crampon (Antoine Courtois) whom I have represented as an artist for 10 years, they have been a great support for my career and have always supported me in all my projects, on this occasion I proposed to make this album and that everyone could enjoy free access to a small musical gift in these times of uncertainty, giving encouragement to those who listen. Which the house accepted, with such emotion that in a few days it gave a yes as an answer.
Innova Trombone: To conclude, would you like to make any further contribution to this presentation?
Miguel Sanchez: I would add that it is an album made with dedication and with the help of friends who made everything flow in a magical way. I would like to thank the sound engineer Carlos Vilaplana and the graphic designer Ismael La Rosa who is also a trombonist.
Innova Trombone: It has been a pleasure to talk to you Miguel, good luck with the launch and promotion of the CD. Here at innovatrombone you have your home for anything you need.
Miguel Sanchez: Thanks to you and as I said before, congratulations for the dedication you give in promoting, contributing and encouraging the trombone collective all over the world, without a doubt we are many who have received the happiness of all the content you make and spread.
Innova Trombone: Dear friends and trombonists of Innova Trombone, so far our talk with Miguel Sánchez, we say goodbye with some videos of our guest.
Mahler 3 – Solo trombone Miguel Sánchez
Miguel Sánchez – I'm getting sentimental over you (George Bassman & Ned Washington)
Artists who joined me in the elaboration of the Contemplation Album.
Miguel Sanchez profile in innovatrombone: Miguel Sanchez
If you are a trombonist join our community, create a trombonist profile, manage your ads and videos at the following link:Register
Visit our website:www.innovatrombone.com