At Innovatrombone we are pleased to introduce a new partner for our website.
Lito Fontana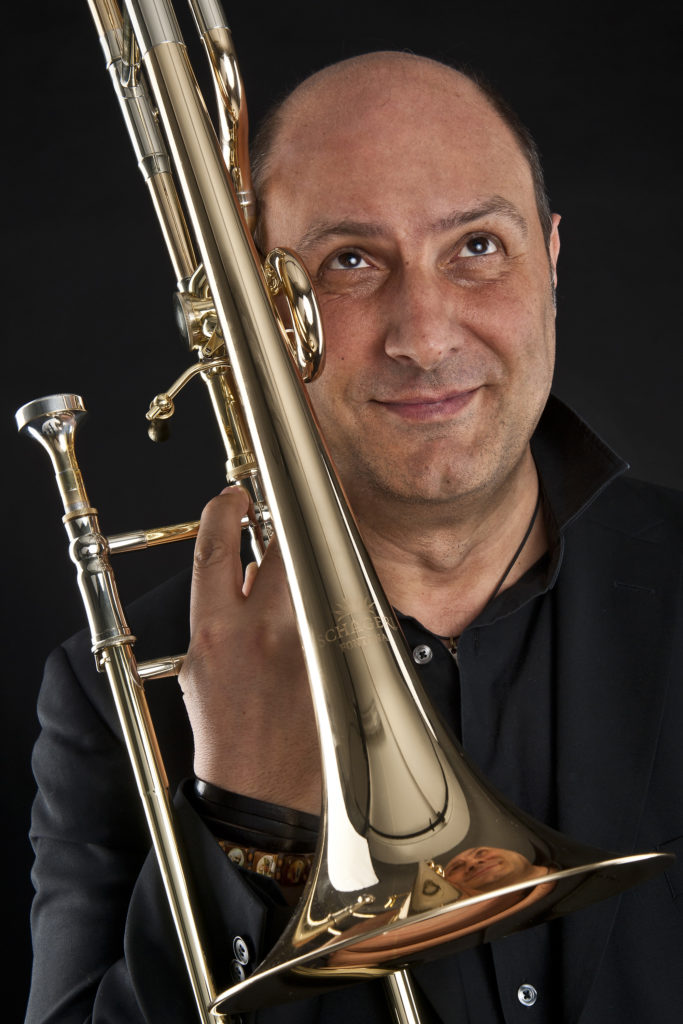 Innovatrombone: Hi Lito, we're happy to chat with you, welcome to Innovatrombone!.
Lito Fontana: Hello everyone, it's a pleasure to be here, thank you very much!
Innovatrombone: We would like to know a little more about your life and share it with our audience.
Innovatrombone: Where are you from?
Lito Fontana: I was born in José C. Paz, province of Buenos Aires ( Argentina ) and when I was only 12 years old I went with my whole family to Italy because of the political and economic situation that my native country was going through. I have been living in Innsbruck (Austria) for 30 years.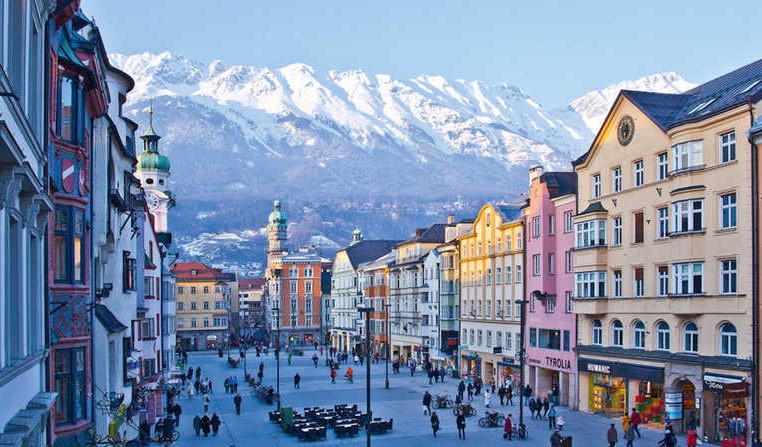 Innovatrombone: How did the interest in music and/or trombone come about?
Lito Fontana: In Argentina I was studying classical guitar and then when I arrived in Italy I introduced myself to the band master of the city where I lived telling him that I wanted to play an instrument and he told me that trombones were needed; that's how it all started!
Innovatrombone: Tell us, with whom and where did you start studying trombone?
Lito Fontana: I started studying at the conservatory of the city of Fermo and the last two years at the conservatory of Pesaro in Italy with Prof. E. Pumpo. I was also lucky enough to do many courses with B. Slokar and Joe Alessi.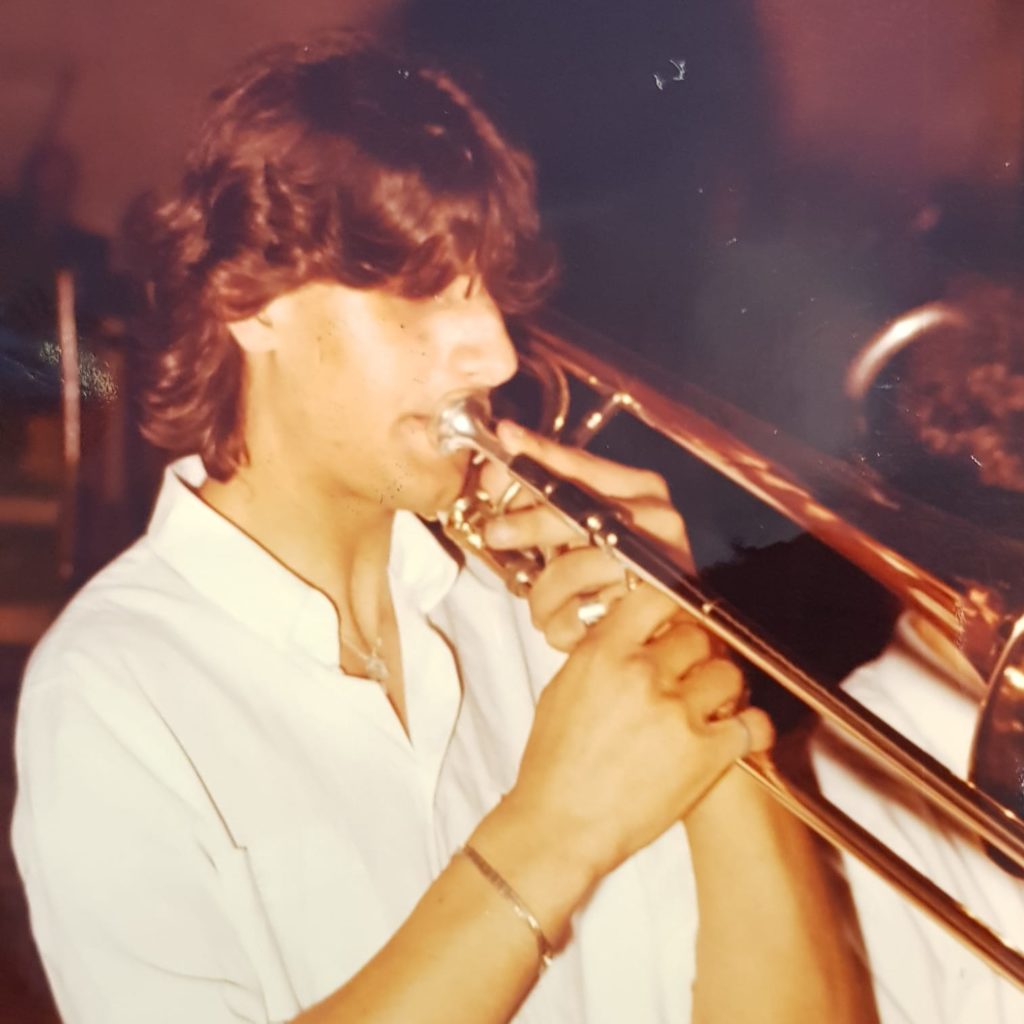 Innovatrombone: Where did you continue your trombone studies?
Lito Fontana: When I arrived in Austria I perfected myself with Prof. M. Stern (solo trombone of the Bayerisch Rudfunk) with whom I was able to learn the German style used here.
Innovatrombone: Can you tell us about the teachers who have influenced you the most and why?
Lito Fontana: Slokar and Alessi are the teachers who have influenced me a lot with their elegance and virtuosic technique.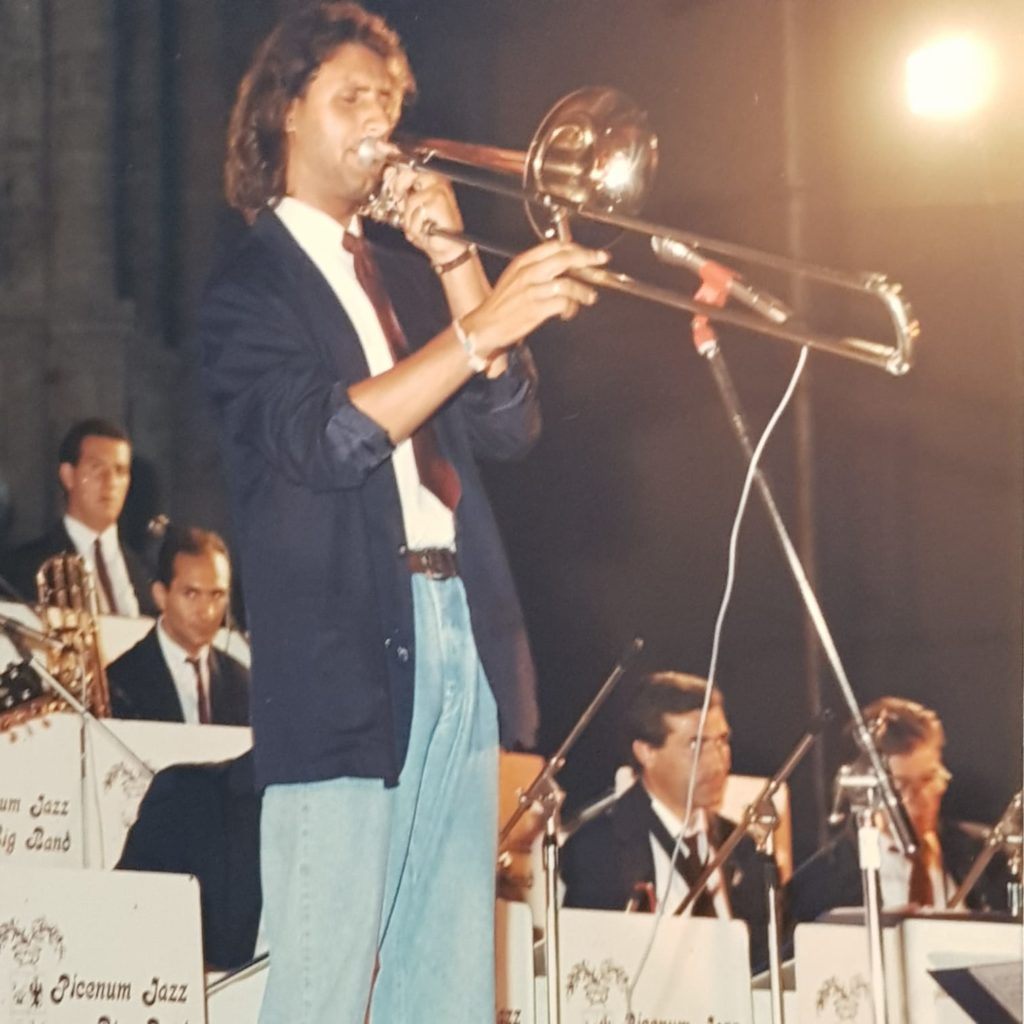 Innovatrombone: We know that you are an artist of the well-known Schagerl brand. Which trombone and mouthpiece do you use at the moment?
Lito Fontana: Yes, since 2014 I am a Schagerl artist ,I have developed my trombone model the SCHAGERL FONTANA and I play with the Remington mouthpiece as soloist and Griego when I played in orchestra and with classical ensembles.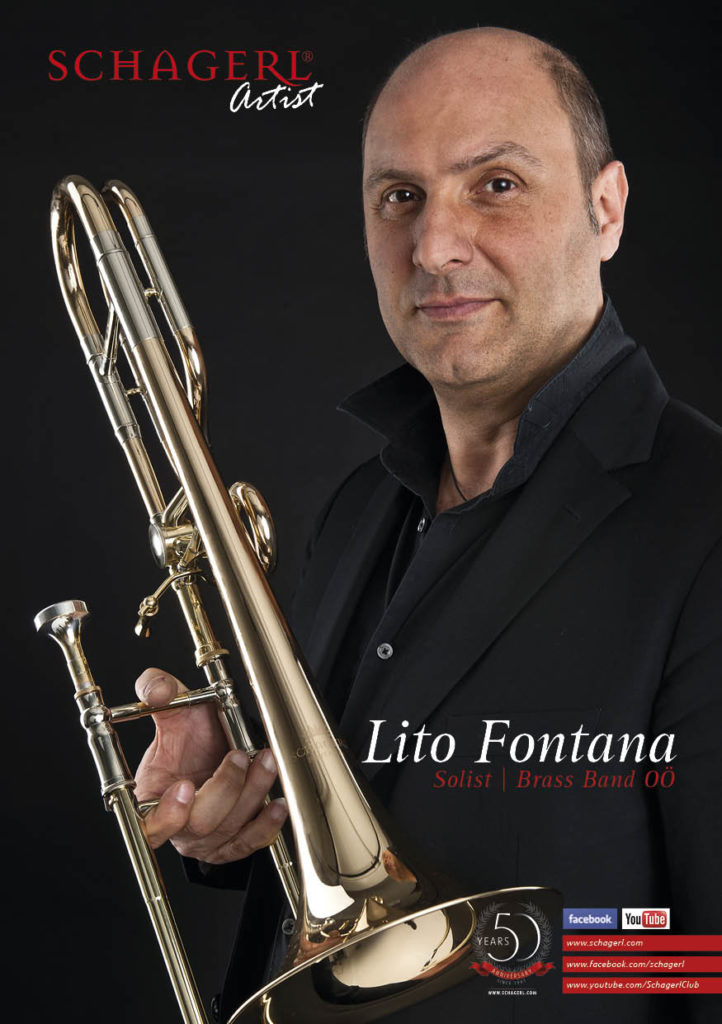 Innovatrombone: Tell us a little bit about your professional career and your current occupation
Lito Fontana: I started at the Conservatory G. Rossini Conservatory in Pesaro in Italy in 1984, then I spent 5 years as a teacher at the Perugia Conservatory and another 5 years at the Bolzano Conservatory also in Italy. At that time I collaborated ́con many classical orchestras and with the RAI of Italy.
As I said before, I have been living in Innsbruck (Austria) since 1991. My musical life has developed here, especially with the world of brass bands, in which I have won awards as best soloist in 2008 2010, and with my CDs in 2012 and 2014, and in 2019 with a SPECIAL AWARD to the race, received by WORLD OF BRASS and 4 BARSREST of England.
For 29 years I have been a teacher at the Musik Schule Hall in Tyrol (Austria), with 30 students, president of the AIBB (Italian Brass Bands Association), I am on many juries in competitions for soloists, brass bands, soloist all over the world with brass bands, symphonic winds, symphonic orchestras and with my pianist, with my original repertoire, with show that is my characteristic with which I work thanks to God very much.
Innovatrombone: How is a day in the trombone life of Lito Fontana?
Lito Fontana: In the morning I have a cappuccino and read the newspaper, then I do some breathing exercises, very important to start the day.
When I arrive at the Musikschule I start the warm-up with the boys and we start the classes. During 4 days I teach 30 students and I also ensemble with trombone choir. I also study a lot and work for new shows, looking for new ideas and pieces that are for my style.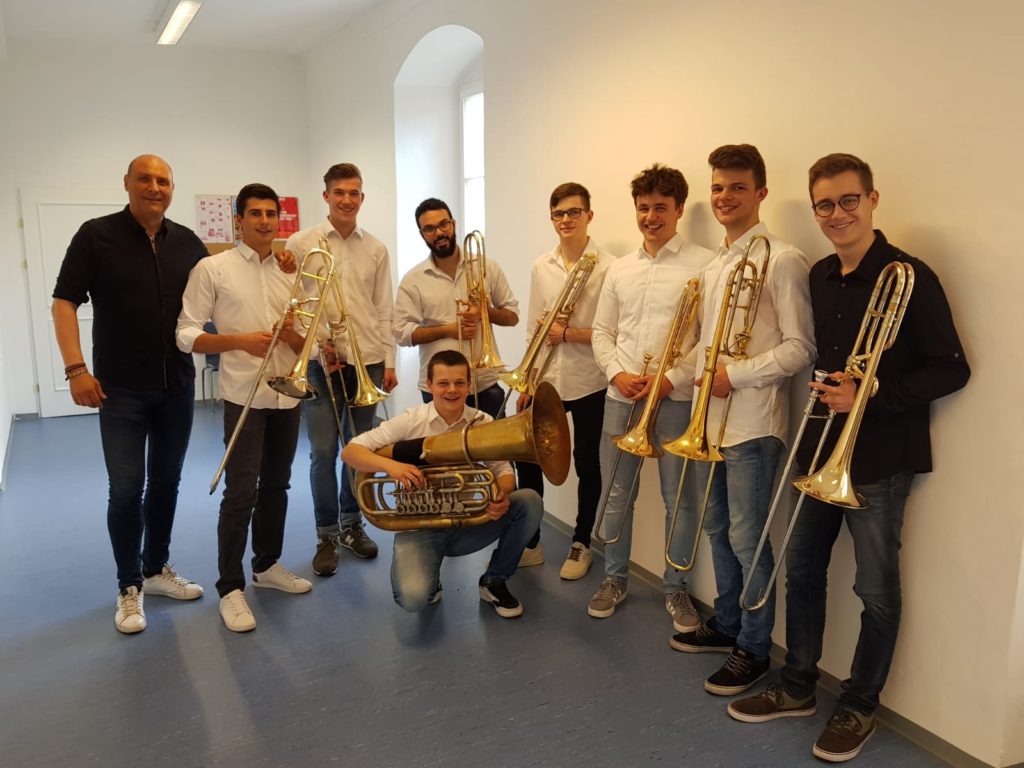 Innovatrombone: What projects do you have in mind for the future?
Lito Fontana: My future projects are concerts and masterclasses in Italian Conservatories in July and in November masterclasses near Salsburg. In September I will be in Bad Goisern BläserUrlaub. In October I will perform as a soloist with Pacho Flores in Switzerland with the brass band Trece L'Etoille, this will be the first stage that will take us to many more concerts in Germany at the Sauerlan brass Festival ,Lithuania and other more accompanied by different groups.
In November I will be in the jury of the SIDIS national championship of brass bands in Stavanger (Norway), in December in Graz (Austria) 2 masterclasses and 2 solo concerts and 2 concerts in Moscow with the Haller Stadtpfeifer quintet.
Masterclasses in 2020 in conservatories in Spain, Italy, Germany and many concerts in Europe. And also projecting for South America masterclasses and concerts next year. I am also working in the world of brass bands in Aveiro (Portugal) ,Sweden and Italy.
Innovatrombone: Lito, it's been a pleasure to talk to you Lito, we welcome you again to Innovatrombone as a partner of our website and we want to work with you as soon as possible.
Lito Fontana: Thank you very much for everything! Greetings to all Innovatrombone fans!
Innovatrombone: To say goodbye, we leave you with two videos of our new collaborator
Profile of Lito Fontana at Innovatrombone: : LITO FONTANA
If you are a trombonist join our community, create your trombone profile, manage your ads and videos at the following link:Registration
Visit our website:www.innovatrombone.com