From Innovatrombone we are pleased to inform you about a new edition
of the 2018 Trombone Days (Jornadas Trombonísticas). Here we leave you
the information of this great event full of activities that comes from
2i2quartet.
Biar (Alicante) from 18 to 20 July 2018
Registration for the Trombone Days is now open. (Deadline for
registration is Friday 6 July 2018)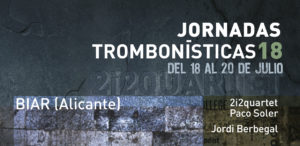 This edition will be attended by 2i2quartet (J. Carlos Matamoros,
Álvaro Martínez, Francisco Juan "Kiko" and Miguel J. Martínez
"Viriato") and Paco Soler (jazz) as teachers of the course.
In addition to individual classes, there will be chamber music and
jazz workshops, exhibitions and Master Classes given by Jordi Berbegal
(trombone soloist of the Symphony Orchestra of the Gran Teatre del
Liceu in Barcelona).
We will also enjoy a series of concerts where all the teachers will
take part and we will be visited by Valencia Brass Band by Inel and Le
Dancing Pepa Swing Band.
Photo gallery 2017 edition: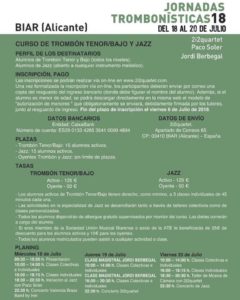 Vídeos:
Info: aquí