From Innovatrombone we have the pleasure to inform you about the
International Trombones Festival of Costa Rica 2018.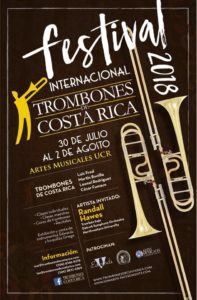 A space made up of individual classes, master classes, recitals,
chamber music workshops and many more activities!
This year, along with the Trombones Faculty of Costa Rica, we have the
participation of master Randall Hawes, a prominent bass trombonist of
the Detroit Symphony and professor at Northwestern University and the
Cleveland Institute of Music.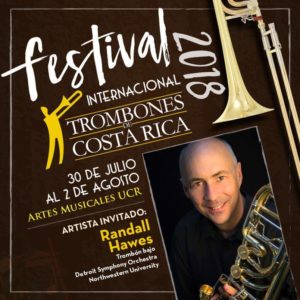 The Festival will take place from July 30 to August 2 at the campus of
the University of Costa Rica, Rodrigo Facio headquarters in San Jose,
Costa Rica.
Contact:
TROMBONES DE COSTA RICA, National Music Prize 1997, Special Prize of
the city of Passau, Germany 1999, is a chamber music group with
important national and international trajectory.
Since its foundation in 1991, it has been characterized by its clear
projection to the public through educational and entertaining recitals
that include different musical genres. The originality and sensitivity
shown with new proposals have allowed him to become one of the best
and most unique chamber groups in America.
The permanent search for new horizons has allowed the incorporation of
diverse and varied genres, from the classical repertoire to the
popular folklore, throughout Latin American musical expression, jazz
and others. In addition, within its repertoire it owns great amount of
pieces of Costa Rican and foreign composers commissioned especially by
the group.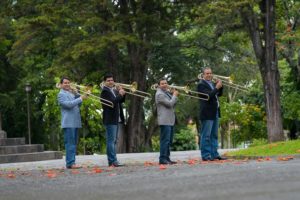 Presentations
The variety of his music and the transparency of his performances have
resulted in numerous presentations in the best halls of the country
and in international tours to cities in Central America, the
Caribbean, North America, South America and Europe. Account to his
credit with several appearances on national radio and television.
Costa Rica Trombones maintains stable and consecutive seasons at the
already Centennial National Theater, and at the National Auditorium
where it presents shows ranging from the traditional to shows that are
complemented by ingenious extra-musical resources.
The ensemble also appears as a soloist with prestigious national and
international ensembles including the United States Navy Band in
Washington, the Oregon State Symphonic Band, the Carroll College Wind
Ensemble, the University of Miami Wind Ensemble in the United States,
National Symphony Orchestra of Ecuador and National Symphony Orchestra
of Costa Rica in seasonal concerts and international tours.
Discography
"Contrastes", "Imágenes" and "Trombonismos" (Contrasts, Images and
Trombonisms) are the discographic productions of "Trombones de Costa
Rica", in which the classical, contemporary and Latin American
repertoire are mixed, especially pieces by Costa Rican composers.
Since 2001, they host and produc the "Festival Internacional de
Bronces Trombones de Costa Rica", in which, in addition to the group,
internationally renowned musicians participate as a resident faculty.
"Trombones de Costa Rica" has been guest artist and resident faculty
for the International Trombone Festival 2001 and 2002 and the Eastern
Trombone Workshop 2003 in the United States.
Currently, the group is a resident of the National Auditorium of Costa
Rica and international instructor for the prestigious trombones brand
Edwards.