At Innovatrombone we continue to introduce young trombonists who are expected to have a long career. This time we have contacted the new trombone soloist of the Orchestra and Chorus of the Community of Madrid and trombone teacher at the Centro Superior de Música Katarina Gurska.
Juan Sanjuan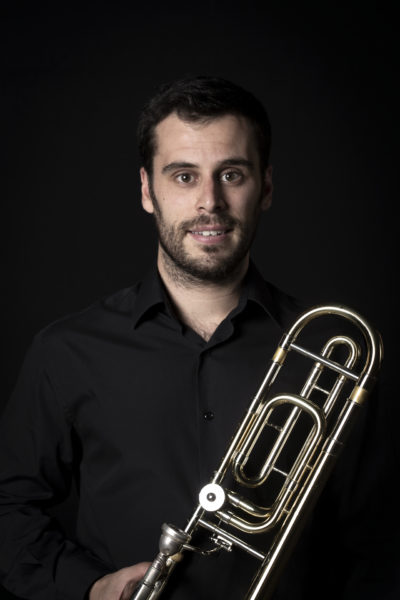 Innovatrombone: Hi Juan, we're happy to chat with you, welcome to Innovatrombone!
Juan Sanjuan: Hello, my pleasure, thank you very much!
Innovatrombone: You confess your age to us?.
Juan Sanjuan: Sure, 27 years old.
Innovatrombone: Where are you from?
Juan Sanjuan: From Villena, a city in the province of Alicante.
Innovatrombone: How did the interest in music and/or trombone appear?
Juan Sanjuan: Music was already at home, my father is a trumpet player in the village band and as a child I always remember going behind the band with my mother accompanying the musicians. I always told them that I wanted to play the trombone, I was always attracted by that big instrument with that slide that moved all over the place, and I don't remember well why when I was 6 or so my grandfather gave me a kind of small trumpet ( he must have confused hehe) and with it I started in the band school only for a few months… I was still stubborn with the trombone and I changed and that's how it all started.
Innovatrombone: Tell us, with whom and where did you start studying trombone?
Juan Sanjuan: I started at the Escuela de la Sociedad Musical Ruperto Chapí de Villena with Eduardo Nadal (professor at the Conservatorio de Teulada at the moment). I have incredible memories of that time because we were 5 or 6 kids who started playing trombone at the same time and we made a very good group and had a lot of fun.
Beginnings with the trombone.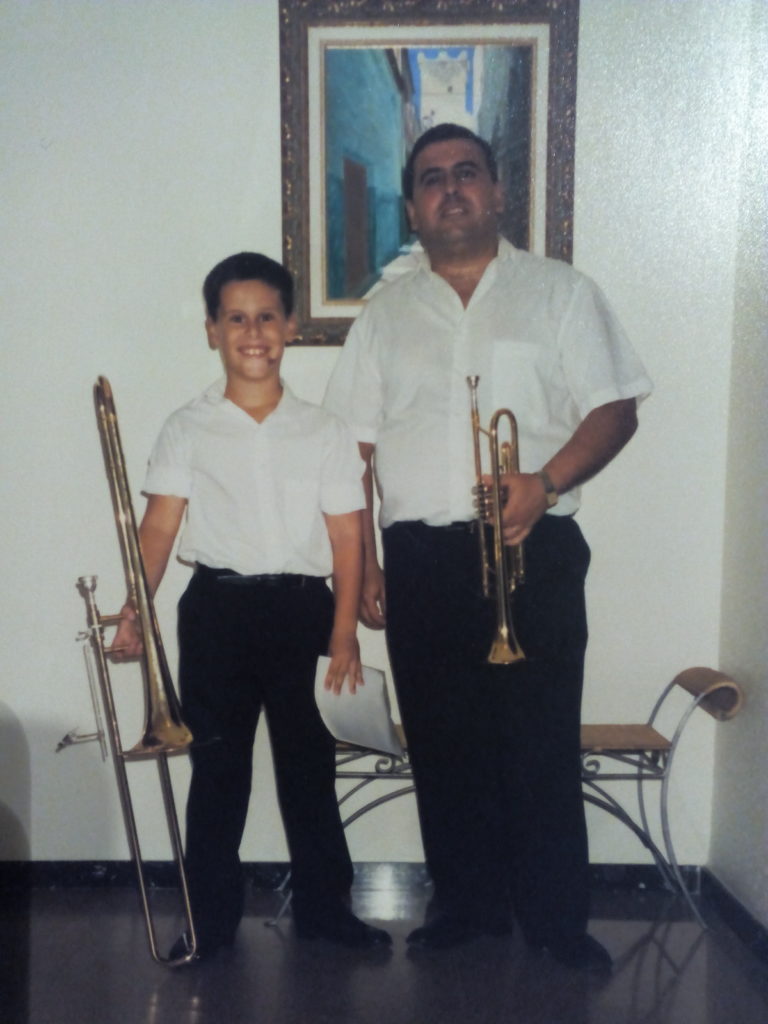 Innovatrombone: Where did you continue your trombone studies?
Juan Sanjuan: I took the entrance exams for the Professional Degree at the Villena Conservatory, and there I started 2 years with Mariano Ferriz and later with José Vicente Cervera with whom I finished the Professional Degree. After a summer of doubts because I was not sure if I wanted to continue with music I took the entrance exams to the Conservatory of Music in Alicante that September and I spent four incredible years there with Felipe Lanuza who was my tutor during those years and with Javi García who also helped me in everything. And more recently I spent two and a half years at the Hochschule für Musik Freiburg (Germany) studying with Fabrice Millischer.
Innovatrombone: Can you tell us about the teachers who have influenced you the most and why?
Juan Sanjuan: I've been very lucky that all the teachers I've had have been good people and that's the most important thing in this world and they've all tried to help me in different ways. Thanks to all the teachers I have mentioned before I also met others who have somehow influenced me to be who I am, as I was able to get to know the 2i2 quartet's trombone days,
Trombone days 2i2 quartet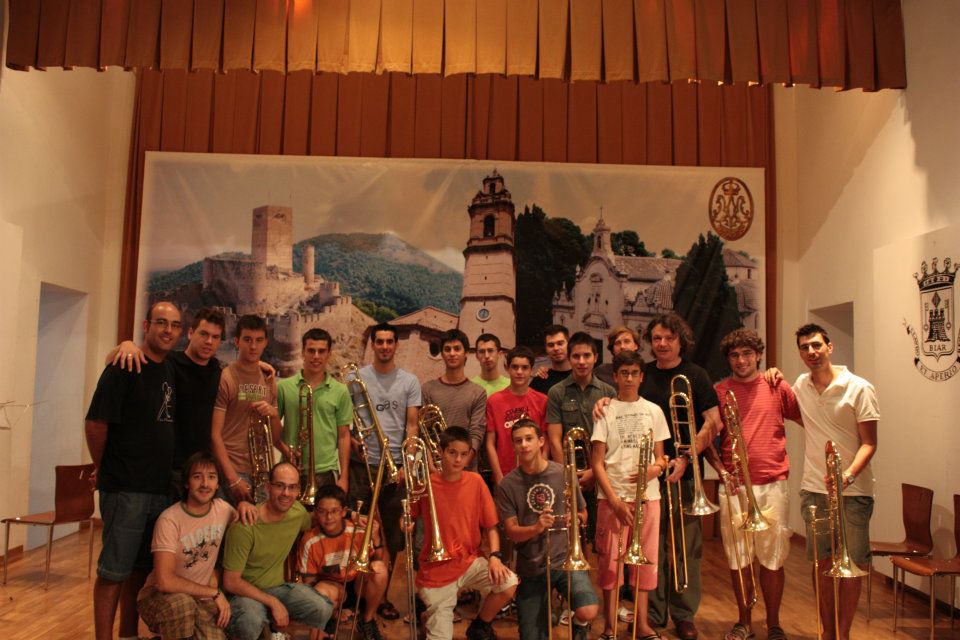 I was an active student at the Trombone Academy with Carlos Gil and Indalecio Bonet and I also attended a class with Jordi Navarro and Juan Carlos Matamoros at the Academy they had in Madrid.
Trombone Academy with Carlos Gil and Inda Bonet.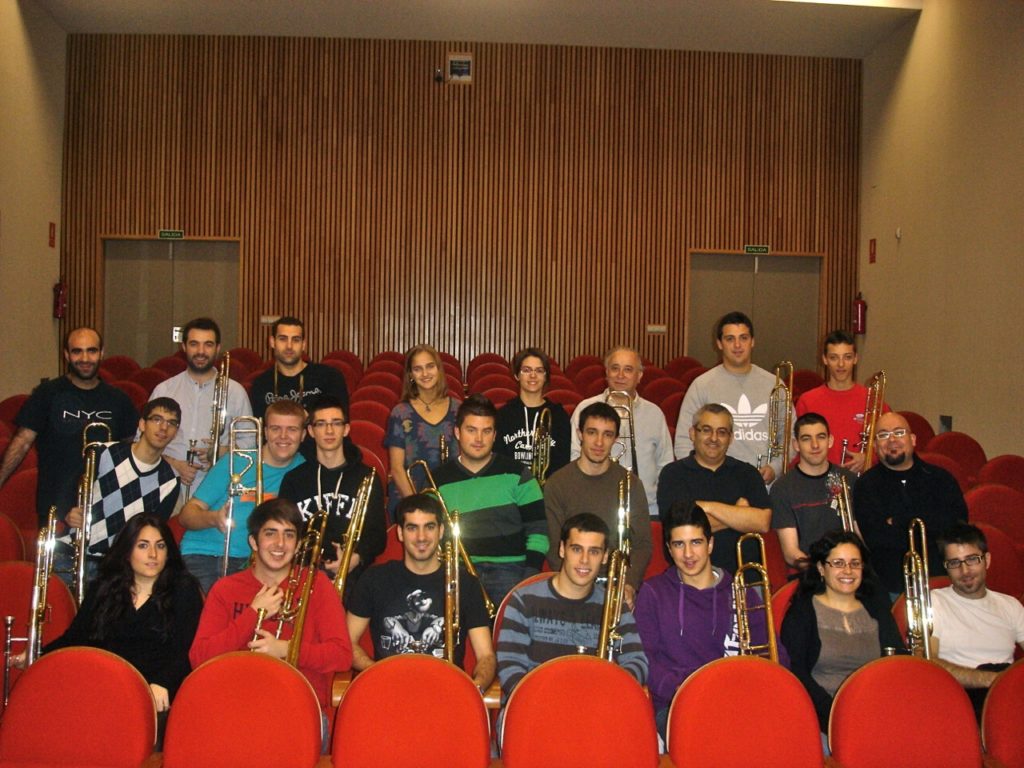 Innovatrombone: What trombone and mouthpiece do you currently use?
Juan Sanjuan: I have played all my life and I still play with an Antoine Courtois Challenger II 420 MB, and the mouthpiece is Bach's 5G. It's a trombone and mouthpiece that I feel very good playing with and at the moment I'm not planning to make any changes.
Innovatrombone: Can you tell us about your first auditions? (young orchestras and professionals)
Juan Sanjuan: There are so many that I don't know where to start… Hahaha. I remember that my first test to a young orchestra was in Barcelona in 1st year of superior grade to the JONC was fatal… hahaha. Then in 2nd I did my first tests to the JONDE and although I entered the last on the list you can not imagine how happy I was but it was a mirage, I think I've always learned by failing, I always had to fall several times to see that there is no way.
Jonde 2016.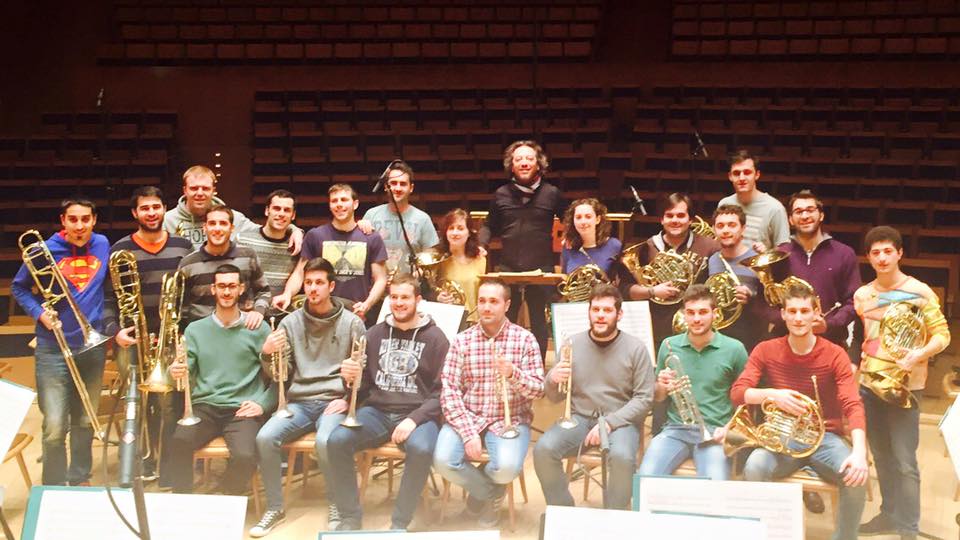 I explain myself, during all my superior grade I always did the typical tests of young orchestras ( JONDE, MAHLER JUGENDORCHESTER, HOLSTEIN, EUYO… ) and the "only" thing that I managed to do was to get into the stock market in the Jonde always, but very far behind in the list so I could not go to play and in the others nothing at all.
Trombones and tuba JONDE 2016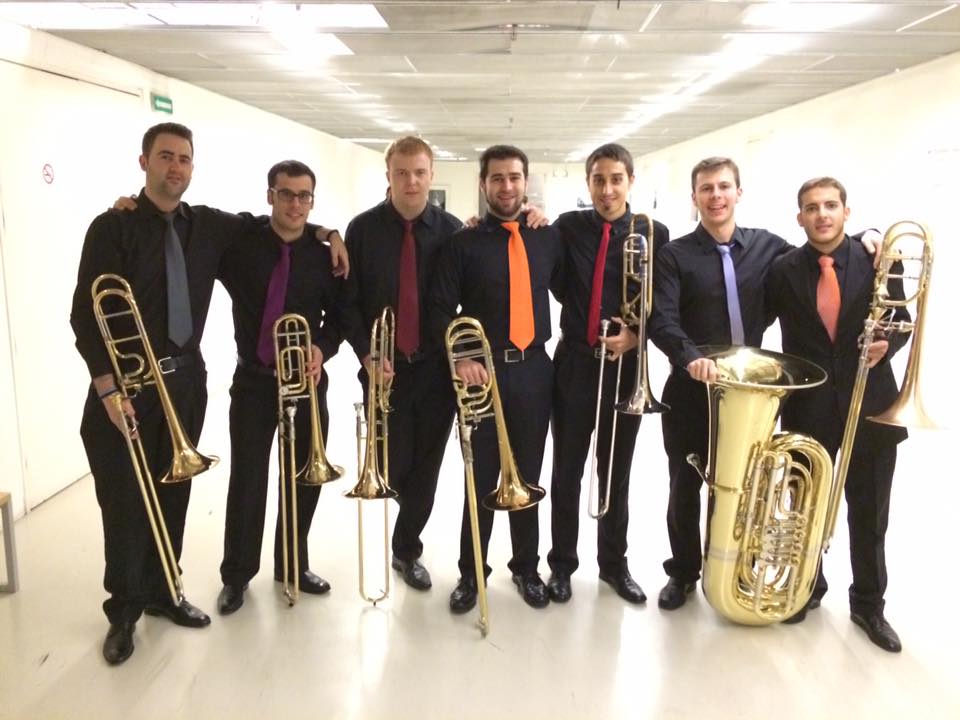 I finished the Superior and I was not clear what to do and it was when I started to go with Jordi and Mata to Madrid, I took that year very seriously and my "luck" started to change, I won several competitions among them Juventudes Musicales de España.
Final in the Juventudes Musicales de España contest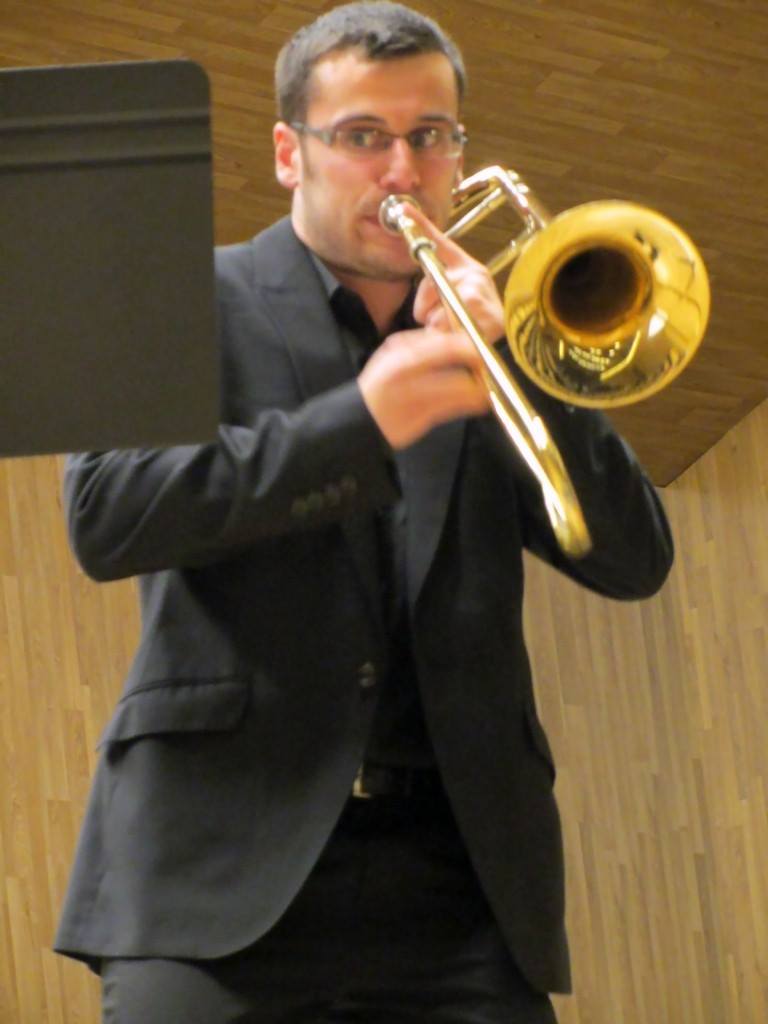 Soon after I met Fabrice Millischer by chance, I went there to study and started to do professional orchestra tests, and the way was a little bit similar I was going through the rounds in almost all the ones I did but I was missing that plus needed to win,
Slider Asia with Fabrice Millischer's class.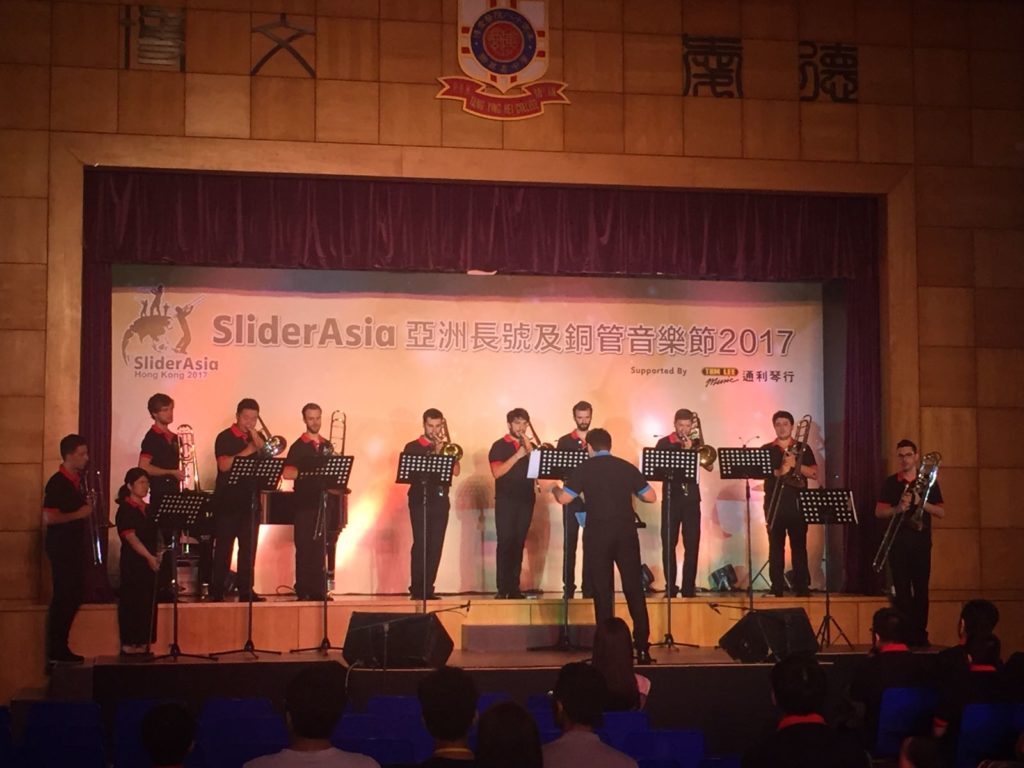 Although thanks to one of these tests I was lucky enough to work as a trombone soloist with the French National Orchestra,
Trombones and tuba French National Orchestra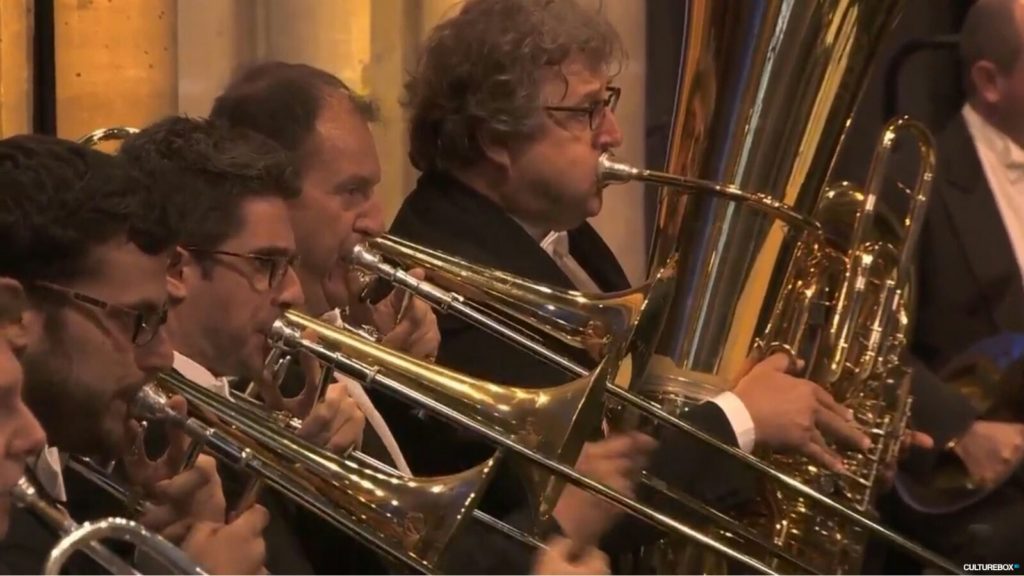 And this was an important step for me, it wasn't going to be all bad news haha, and after that it was all for the better I got more confidence in myself I went back to Spain and here I already won several jobs that came out as in the RTVE, OBC, Bilbao (in Bilbao there is no order I don't know if I won or not hehe) and the ORCAM.
Innovatrombone: We know that you recently won the position of trombone soloist in the ORCAM Orchestra and Chorus of the Community of Madrid.
Will you please tell us about your arrival in this orchestra and the experience you are having?
Juan Sanjuan: As I said in the previous question to the ORCAM I arrived through some job placement tests that were held at the end of September 2018, I started working temporarily in November and December with them, and in January they offered me a contract as a solo trombone player and I have been there until the dates of the tests, which were February 20 and 21, 2020 only 3 months ago.
ORCAM Trombone and Tuba Section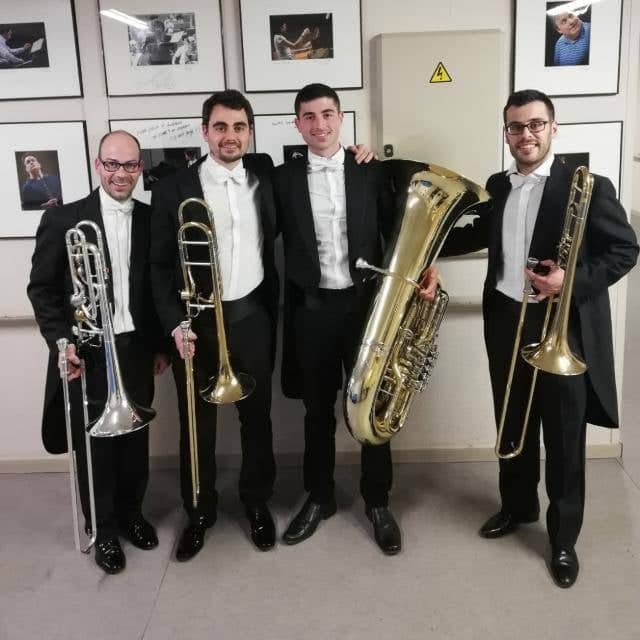 Innovatrombone: Please tell us about your ORCAM audition experience
Juan Sanjuan: Well, they went in two days, Thursday 20th and Friday 21st of February, I was invited directly to the second round that took place on Friday 21st. We had been invited at 3pm because the orchestra had rehearsal that morning, but I was a bit nervous because it's not the same to do a rehearsal for someone you don't know than for people who have been your friends for more than a year, I slept relatively well, I got up late (as almost always) hahaha, I saw that everything was in order, I left the house and went to the venue, when I arrived I had a sandwich and a coffee in the bar across the street.  When I started to play I was a little bit overwhelmed by the situation but I was able to control it quickly and play quite well the rest of the round and so we passed two more guys and me to the last round, and in this one I was much calmer and totally convinced that it worked out as I wanted it to and the result couldn't have been better.
Teatro de la Zarzuela.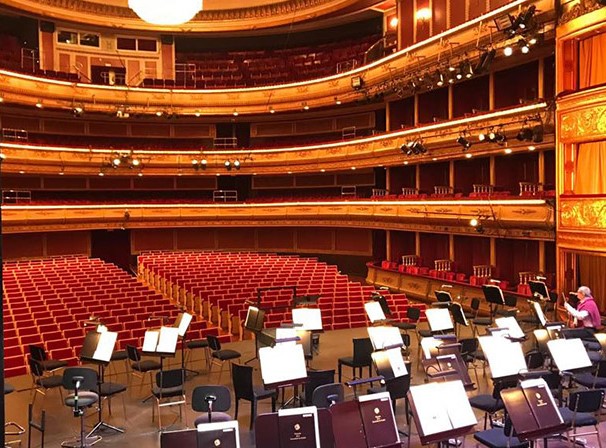 Juan Sanjuan: Yesiiiii there is a very good one, in the last round they had told us the extracts that we had to play, I had organized them in the order that best suited me and when I finished the last one I was super happy that they had come out well and when I was turning around to pick up everything, I heard a voice from the court and they asked me for two more extracts and I missed a "fuck me". That I thought it was for me but it seems that more people heard it… hehe.
Innovatrombone: You're also currently a trombone teacher at the Katarina Gurska music college. What can you tell us about this project?
Katarina Gurska Superior Center in Madrid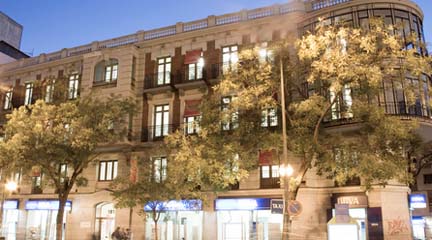 Juan Sanjuan: Well, I'm very excited about it, I'd like to form a good class and be able to help kids from my experience but I know it's a long term project and we're enjoying the trip.
Innovatrombone: How is a day in the trombone life of Juan Sanjuan?
Juan Sanjuan: It depends a lot on the time of the year I am, for example the summer months especially in August I always try to get a little bit fit I have been doing it for a few years and it gives me good results it costs a lot because of the dates but it is spending a couple of hours a day of a good technique session and so I do my "preseason" and this helps me to be well and fit the rest of the year. Then according to the work in the orchestra I go being flexible, for example of normal we begin the rehearsals at 10:30h then I like to arrive always like 30 or 40 mnts before to make my warm up calmly and to catch good sensations if then we don't have anything I stay there, as something and I study something more, if for example I had at night a function in the theater I would go home to rest to be fresh at night. The ideal is to know oneself and to see how we find ourselves during the different stages of the year and to study about this.
Innovatrombone: Do you have any future projects that you can tell us about? Orchestras, concerts, etc.
Juan Sanjuan: I had a project that I was very excited about, apart from finishing the season with my colleagues from the ORCAM and the conservatory, which is a trial I have in the Mahler Chamber Orchestra and I had two tours, one in April in Europe and another in summer throughout South America with Gustavo Dudamel as conductor, and due to the crisis of Covid 19, they had to cancel it, but better times will come, the important thing now is that all this nightmare happens, which is incredible, so good health for everyone!
Innovatrombone: It's been a pleasure chatting with you Juan, at Innovatrombone you have your home for whatever you need and we wish you the best for the future.
Juan Sanjuan: Thank you very much to you! And congratulations for all you are doing for the trombone world with this project, a big hug and greetings to all of you who follow Innovatrombone.
Innovatrombone: Dear friends of Innovatrombone, this is the interview with Juan Sanjuan and we take this opportunity to say goodbye with two videos of our guest.
If you are a trombonist join our community, create your trombone profile, manage your ads and videos at the following link:Registration
Profile of Juan Sanjuan at Innovatrombone by clicking here: Juan Sanjuan
Visit our website: www.innovatrombone.com