At Innovatrombone we have been thinking for a long time about introducing young trombonists who are expected to have a long career. We have decided to undertake and start this idea with a trombonist who has recently won the position of soloist assistant trombone in the Orquestra Simfònica de Les Illes Balears, Spain.
At Innovatrombone we are delighted to meet and introduce Vicente Manuel Cascales Mogica.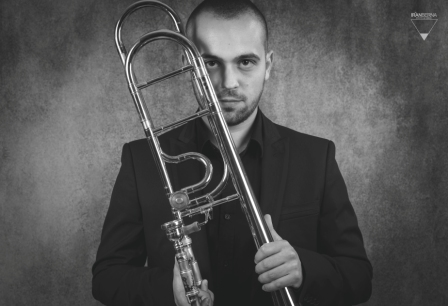 Bío:
Born in Callosa de Segura in 1996, he began his musical studies with Manuel Quesada, Gabriel García Martínez and Gabriel García Gutiérrez at the S.A.M. La Filarmónica music school of his city, to continue them in the Professional Conservatory of Music of Orihuela, continuing them later with Jaume Gil, Juan Antonio Ruiz and Vicente Jacinto, in the Professional Conservatory of Music of Murcia, finishing there his studies of Professional Degree of Music with the qualification of Honours.
Later, he continued his studies at the Conservatorio Superior de Música de Murcia in the speciality of trombone with Professor D. Mario Calvo Ponce, obtaining the qualification of " Honours" in his End of Studies Recital.
Since 2008 he has been a student of the prestigious Brass Academy Alicante, based in Alicante, where he has received classes from Severo Martínez, Ricardo Casero, Otmar Gaiiswinkler, Erik Hainzl, Juan Real, Mark Hampson, Ximo Vicedo, Dani Perpiñán, David Rejano, and has also received masterclasses from Stefan Schulz, Ian Bousfield and Jörgen van Rijen, among others.
At the Brass Academy he is a member of his brass ensemble (conducted by Rudi Korp), with which he has performed as a soloist on several occasions.
He has collaborated on several occasions with professional groups such as the Orquesta Sinfónica de la Región de Murcia, Malta Philharmonic Orchestra, Orquesta Filarmónica de la Universidad de Alicante, Orquesta y Coro Filarmonía de Madrid, Orquesta Sinfónica de RTVE, Orquesta Reino de Aragón, ADDA Sinfónica, Orquesta Freixenet Reina Sofía and with the Sinfonietta of the prestigious Escuela Superior de Música Reina Sofía. In addition, he has been contracted from 2017 to 2019 as a co-soloist trombone in the Malaga Philharmonic Orchestra.
At the moment, he is, by opposition, a trombonist assistant to the Orquestra Simfònica de les Illes Balears
He has performed under conductors such as Víctor Pablo Pérez, Antoni Ros-Marbà, Mihnea Ighnat, Josep Pons, Jesús López Cobos, Plácido Domingo, Manuel Hernández-Silva, Pablo Heras-Casado, Péter Csaba, Zsolt Nagy, Georg Mark and Kryzstoff Penderecki.
On an individual level, he has won the First Prize in the Region de Murcia "Entre Cuerdas y Metales" 2015 competition, the First Prize in the Vega Baja and Baix Vinalopó Regional Competition 2015 in the 1st brass wind category, he is the winner of the Accèsit in the Concurso Nacional de Música de Villena in 2017 and the winner of the XII Concurso Nacional de Jóvenes Intérpretes "Ciutat de Xàtiva" in 2018.
He has also performed as a soloist with groups such as the Orquesta de Cámara de Cartagena and the Banda Sinfónica Municipal de Alicante, playing Launy Grondahl's Concerto for Trombone and Orchestra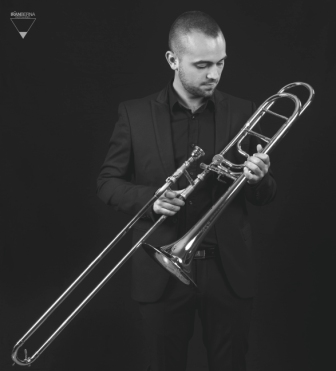 Innovatrombone: Hello Vicente, we are delighted to chat with you, welcome to Innovatrombone!
Vicente Cascales: Hello everyone! Nice to chat with you for a while.
Innovatrombone: You confess your age to us?.
Vicente Cascales: 23 years old.
Innovatrombone: Before we get to the details of the auditions you won in the Orchestra de les Illes Ballears we'd like you to tell us about your beginnings with the trombone.
Tell us, with whom and where did you start studying trombone?
Vicente Cascales: I started at the music school of my band, La Filarmónica de Callosa de Segura, with Manuel Quesada, although in those initial training years I was also lucky enough to study with the band's conductors, horn players Gabriel García Martínez and Gabriel García Gutiérrez.
Trombone beginnings.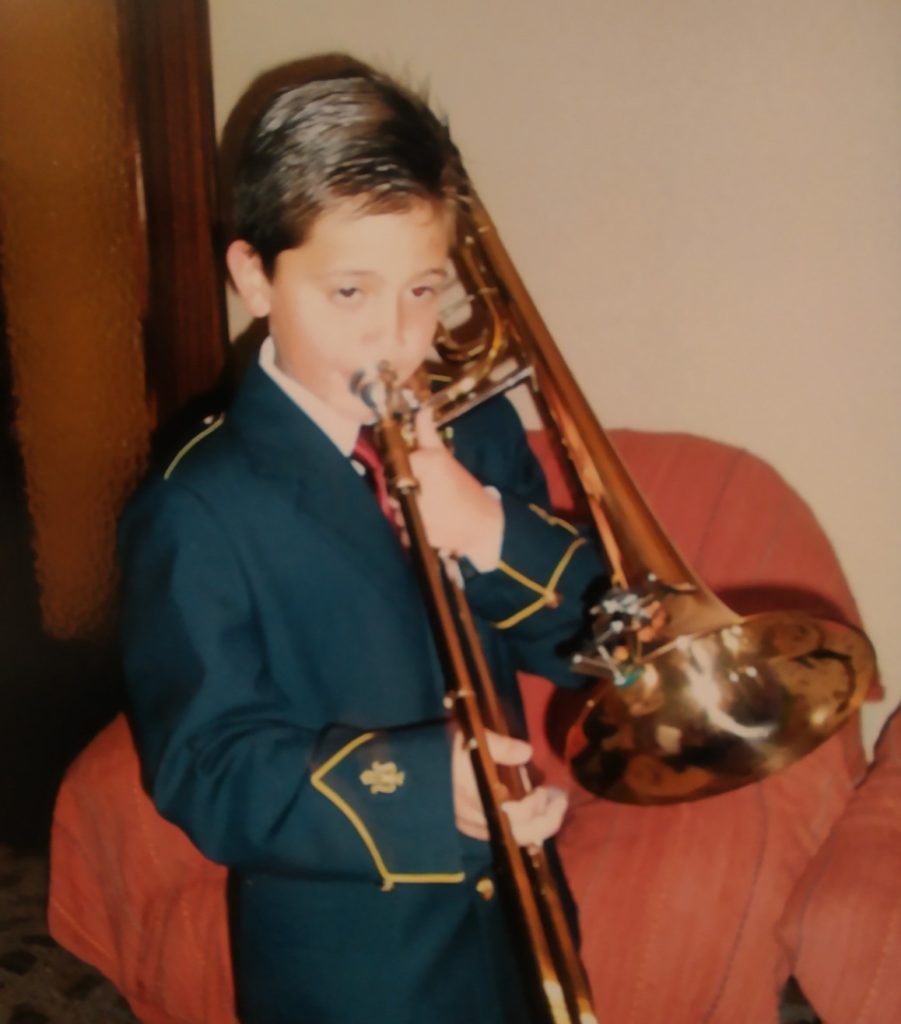 Innovatrombone: Where did you continue your trombone studies?
Vicente Cascales: I continued in the Conservatories of Orihuela and Murcia in Professional Degree, finishing those studies with Vicente Jacinto. After that, I continued at the Conservatory of Murcia with my dear Mario Calvo, where I recently finished my studies last June. In addition, during my years as Superior, I was combining my music studies with those of Economics at the University of Alicante, which I also finished last year.
During all these years (specifically from 2007 to 2017) I have been a student of the Brass Academy Alicante, where I have been able to enjoy some of the best trombonists in Spain and the world, as well as their conductors, Nury and Rudi, from whom I have learned a lot as well.
Brass Academy Ensemble.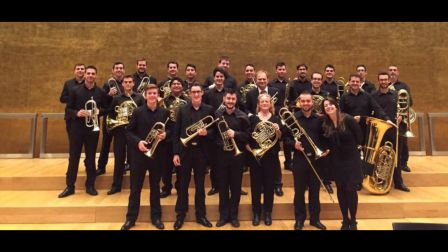 Innovatrombone: Who are the teachers who have influenced you the most and why?
Vicente Cascales: The truth is that, having such a long list of teachers, there are many who have influenced me. I think I'm going to be very unfair to some of them by not mentioning them, but it would also be unfair to those I have a special memory of.
To begin with, I think that the work I did with Gabriel García Martínez and Gabriel García Gutiérrez in my beginnings was very relevant for me; they are two great pedagogues who made me work a lot.
Later, in the Professional Degree I keep an immense memory of my last teacher, Vicente Jacinto. I consider him above all a great person and a great friend. The truth is that I am very fond of him.
Later, in the Superior Grade, I think I was very lucky to have Mario Calvo. For me, he is one of the best Superior teachers in Spain without any doubt. It's incredible how for almost 30 years he has had some brilliant students who end up playing in great orchestras.
Speaking of the Brass Academy, Nury and Rudi's demands are something I will always keep in mind.
And of course, the many trombone teachers I've been able to enjoy there. From Severo Martínez, who was the first and of whom I have great memories and a very good relationship, to the last ones. My last years there with Ximo Vicedo, my dear Daniel Perpiñán and David Rejano were simply amazing. They are three cracks that besides respecting I have a lot of affection.
Of course, Ian Bousfield has a special place for me. He is a global reference and I have had and am very lucky to have a fairly close contact with him, with a real mutual appreciation. He's a awesome
With Ian Bousfield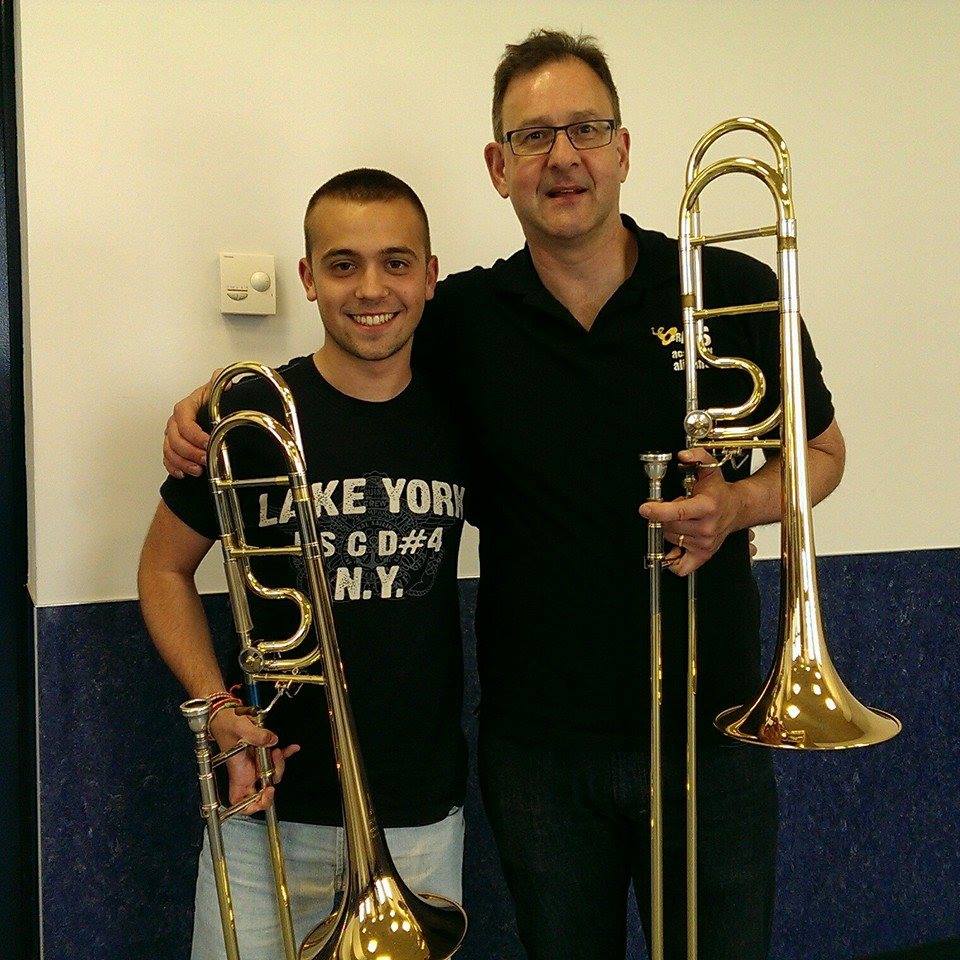 Innovatrombone: Can you tell us about your first auditions?
Vicente Cascales: My first auditions were in youth orchestras, like the JONDE, the GMJO or the EUYO, and the truth is that none of them were very successful. They began to go better after I introduced myself to professional orchestras, curiously enough. There I was already passing rounds and even winning some.
Innovatrombone: What trombone and mouthpiece do you use these days?
Vicente Cascales: A Getzen 4147 Custom Reserve model Ian Bousfield, and a Bob Reeves-Brass Ark Mercury 5G mouthpiece
Innovatrombone: We know that until recently you worked in the Malaga Orchestra. You tell us about your arrival in the Orchestra and your experience there?…
Malaga Philharmonic Orchestra.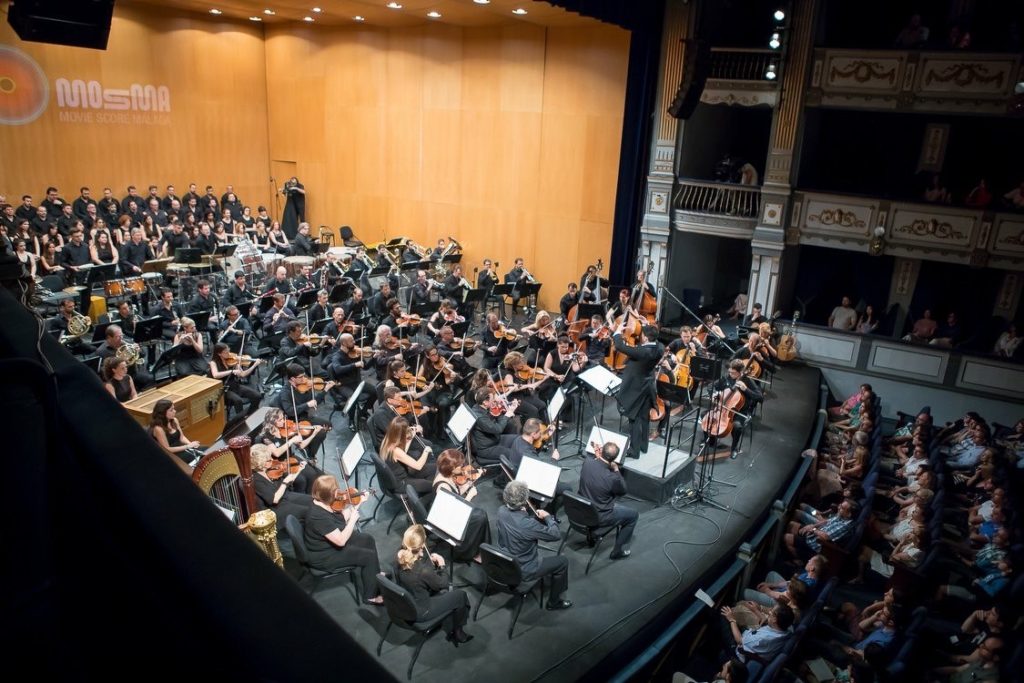 Vicente Cascales: It was all about winning auditions for a job. As one of the soloist positions was vacant, I worked there non-stop until I won the audition in the Balearic Islands.
As for my experience, it has been very good. It was my first job opportunity with some continuity and I have been able to learn a lot, both musically and personally.
I think it's very lucky to arrive at a place when you're very young and have little experience and you come across a section like the one we have. Jose, Gregorio and Sergio are great musicians and great people. It's been a pleasure working with them this time and I'm going to miss them a lot.
Innovatrombone: What's a day in the trombone life of Vicente Cascales like?
Vicente Cascales: Well, not too complicated. I usually try to get to rehearsals a lot earlier to study for a while and be calm; and stay afterwards to continue looking at things or studying concerts or rehearsals that I have in sight. Above all, I try not to get obsessed with everything related to the trombone. On top of that I try to enjoy it and make it an essential part of my life. I think that the fact that I have always been doing something else besides studying music is what has made me not obsess too much. Far from being overly stressed, studying something as distant from music as it is economics, I think it helped me a lot to play things down and put them into perspective, and I think that's quite healthy.
Innovatrombone: Please tell us about your experience of auditioning for the Orchestra of Les Illes Ballears…
(you can tell how the different rounds were until the final, how many trombonists there were, the concerts they requested, orchestral repertoire you played etc, )
Vicente Cascales: The test was held in three rounds, all of them with a curtain and a draw of numbers in each round; the court was made up of a total of 16 people. One soloist from each section of the orchestra, three tutti musicians, the lead conductor and the manager.
In the first round there were 29 of us, we passed 5 to the second round and only two to the final. In each round we played almost 100% of the repertoire that was in the bases, being the last round especially hard, with quite long solos some of them. The works we played were F. David's Concertino and Krol's Capriccio da Camara, as well as 10 orchestral excerpts from different periods and styles, from the bolero and Brahms' first symphony to such long solos as Berlioz' Funeral Sermon. In some excerpts we even played the orchestral tutti parts.
Innovatrombone: Do you have any future projects that you can tell us about, orchestra tryouts, concerts, etc.
Vicente Cascales: Soon I will start a chamber music project with which I am very excited: Kaleidos Trio; with the trumpeter Alfonso Cantó and the pianist Ángel López; very good friends and great musicians. We have been working on it for some time now and it will soon begin to bear fruit.
Besides, I will play a soloist concert in March with my dear band and family in Callosa de Segura.
Innovatrombone: It's been a pleasure chatting with you Vicente, at Innovatrombone you have your home for whatever you need and we wish you the best for the future.
Vicente Cascales: The pleasure has been mine. Congratulations for this work of diffusion of the trombone that you do! A big hug.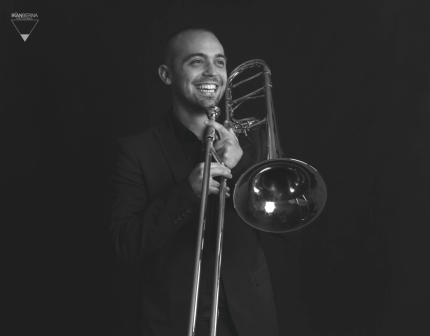 We said goodbye with several videos of our guest:
Mozart's Requiem with the Malaga Philharmonic
3er Mov Jacques Casterede, Sonatine for trombone and piano
Vicente Manuel Cascales Mogica's trombone profile on Innova trombone here: : Vicente Manuel Cascales Mogica
If you are a trombonist join our community, create a trombonist profile, manage your ads and videos in the following link: :Registration
Visit our website:www.innovatrombone.com