Bill Watrous, trombonist known for his clear and round tone, possessor of great virtuosity, left us on Tuesday, July 3.
Watrous was admired among jazz musicians for the fluidity and beauty of his performance, as well as for his speed and lyricism.
W. R. Watrous was born on June 8, 1939 in Middletown, Connecticut. His father was a trombonist and young William soon became interested in this wonderful instrument. Being a teenager he started playing in different jazz groups.
 At the age of 18, he enlisted in the US Navy, where he studied at the Navy School of Music in Virginia Beach, and then moved to a unit of the Naval Band in San Diego.
After his time in the Navy, Watrous moved to New York and became famous with the Billy Butterfield orchestra, with the ensemble led by Kai Winding and in 1965 he became a member of the group Merv Griffin Show.
Two years later, he made his recording debut under his own name, (as William Russell Watrous) in In Love Again.
In 1973, Watrous was consolidated as one of the great trombonists of the time.
The greatest advance of the trombonist was with his own big band (Refuge West Band).
After moving to Los Angeles, Watrous was a studio musician, participating in different television programs and was a professor at the Thornton School of Music at the University of Southern California.
He maintained an active career in Hollywood working for film studios, as a freelancer for jazz ensembles, reforming his big band and regularly publishing his own recordings.
In 1983, Watrous collaborated with Alan Raph to publish "Trombonisms", a method that deals with trombone interpretation techniques.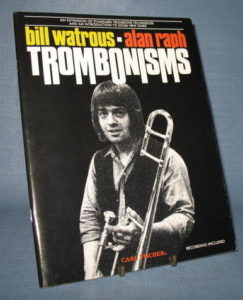 Bill Watrous " Memories of you " 1984.
In the 90s, his popularity in jazz resurfaced, presenting A Time for Love: where Watrous plays the music of Johnny Mandel.
Bill Watrous in 1999 masterclass.
Rest in peace master. D.E.P.
Innovatrombone: