Our new collaborator for Innovatrombone is Adrián Nájera-Coto, Trombonist in the Chamber Orchestra of the UANL, Endorsing Artist and Artist Clinician of the American company Conn Selmer Inc.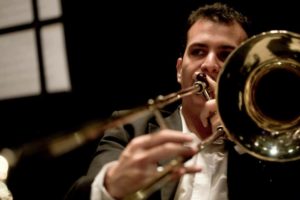 Born in San José, Costa Rica in 1982, Adrián N á jera Coto began his formal trombone studies at the age of 11 with maestro Martín Bonilla. Afterwards, he completes the Basic Stage programs as well as the Bachelor's Degree and Music Degree from the School of Musical Arts of the University of Costa Rica under the tutelage of maestro Bonilla and maestro Iván Chinchilla. In 2005 he traveled to the state of Illinois in the United States, where he obtained the title of Master of Music at Western Illinois University (John Mindeman) and a Professional Diploma in Orchestral Studies at Roosevelt University in Chicago. During his stay in this city he studied with important orchestral instrumentalists such as Jay Friedman, Charles Vernon, Peter Ellefson, Gene Pokorny and Randy Hawes.
In May 2010, Adrián accepted the post of trombonist bass principal of the UANL Symphony Orchestra in Monterrey, Mexico. N á jera has also performed as a bass trombonist for the Mining Symphony Orchestra in Mexico City during the 2012, 2013 and 2014 summer seasons. Other professional commitments include the Saltillo Philharmonic Orchestra, Jalisco Philharmonic Orchestra, Civic Orchestra of Chicago (Chicago Symphony Training Orchestra), Youth Orchestra of the Americas YOA, Illinois Symphony Orchestra, National Symphony Orchestra of Colombia, National Symphony Orchestra of Costa Rica and the Philharmonic Orchestra of Costa Rica. In 2013, Adrián was selected as a participant for the Pokorny Low Brass Seminar at the University of Redlands in Redlands, California. As a bass trombonist of the Youth Orchestra of the Americas (YOA) in 2008 and 2010, Nájera performed at important venues such as Carnegie Hall in New York City, Municipal Theater of Rio de Janeiro, National Theater of Panama, Inter-American Development Bank in Washington DC and St. Peter's Basilica in Vatican City. Other venues include the Chicago Orchestra Hall, the Harris Theater in Chicago, the National Theater in Costa Rica, the Degollado Theater in Jalisco, the Nezahualcóyotl Hall and the Palacio de Bellas Arts in Mexico City.
Najera has served as a trombone teacher at the Autonomous University of Nuevo Leon and Knox College in Galesburg, Illinois; He is currently a professor of Music Theory and Fundamentals of Music at the Monterrey Institute of Technology and Higher Education in Monterrey, Mexico.
Interest in the teaching and diffusion of trombone and music has allowed Adrián to participate in different programs of cultural extension and social interest with groups such as Civic Orchestra of Chicago Music Corp and YOURS Project in Chicago and the MESDA group based in Boston, Massachusetts. Nájera has performed recitals and concerts as well as taught individual classes, master classes and brass sectional in Argentina, Colombia, Panama, Dominican Republic, Guatemala, Mexico and Costa Rica, as well as in different cities in the States United
Adrián Nájera-Coto uses Vincent Bach trombones exclusively.
Profile of Adrián Nájera-Coto in the trombonist section:
http://www.innovatrombone.com/en/trombonists/adrian-najera-coto
Innovatrombone: