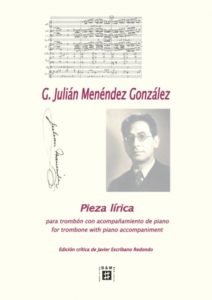 From the pen to the drawer
In 1956 the clarinetist and composer G. Julián Menéndez González was commissioned to write a piece for trombone and piano destined to the oppositions for accessing to the BSMM that year. No clues have been found that the piece "Lyric Piece" was finally used for this purpose, or premiered by any trombonist of the time, so it seems it went from the author's pen to the drawer. In 2015 Javier Escribano Redondo located it during an investigation related to the use of the trombone within the context of the music band.
Now, the score that was originally written for valve and slide trombone, and piano, has just come to light, and this time it is proposed for the slide trombone and piano interpretation.
Javier Escribano Redondo signs the critical edition that includes some annotations on the recovery work carried out, some biographical notes on the author, a study of the compositional style, an analysis of the work and a description of the edition.
The work and the critical edition were presented last December at the Granada Trombone Days and has recently been nationally released by the trombonist Alberto Urretxo in his show "Sonidos Mágicos" (Magical Sounds). Likewise, at the international scene, the trombonist Jesus V. Monzó has been in charge of performing the score in one of his recitals that took place last March.
The critical edition of the work has been made taking the existing materials in the legacy of J. Menéndez provided by the heirs of the author and has been published by the publisher house "Brotons & Mercadal Ediciones Musicales".
http://www.brotonsmercadal.com/lg/CA/productes
The material made available by the editor has a binding of 23 high quality pages which includes 8 pages of text and 11 with the general part of piano. In addition, the trombone part is attached and has an extension of 4 pages .
As a novelty, it has just been known that the score will be the compulsory piece, in D tonality, of the III National Trombone Contest ATE.
Links of interest:
Pieza Lírica – Julián Menéndez – Extract
Jesús Vicente Monzó, trombone Carlos Enrique Pérez Gómez, piano Spanish music week on National Academy of Sarajevo March 2018:
Trombón Alberto Urretxo, Piano Amaia Zipitria. Work by Julián Menéndez, Critical edition of Javier Escribano. Live fragment of Magical Sounds with Toti Martínez and Soinuaren Bidaia. February 2018, Durango (Vizcaya).
www.innovatrombone.com/trombonistas/javier-escribano-redondo-86