From Innovatrombone we are pleased to present the latest work of one of the leading trombonists in Spain, who together with trumpeter Luis González have created the CD entitled "Sinergies".
In order to know the project in detail, we were lucky enough to chat with Carlos Gil, who told us all about this new record.
Carlos Gil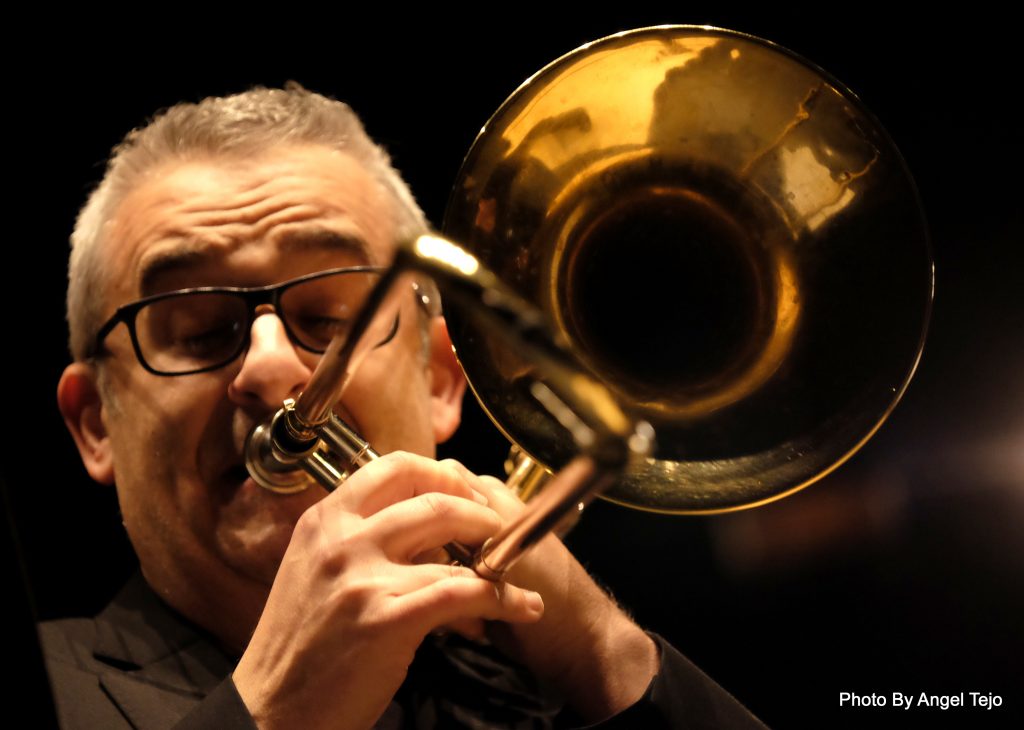 Bío:
Born in Bétera (Valencia). He studied in the Conservatories of Valencia and Madrid, obtaining the titles of Superior Professor of Trombone and Euphonium with Prize of Honor in both specialties. His main teachers have been Joaquín Vidal Pedrós, Miguel Ángel Tomás Castelló and Gilles Millière.
At the age of 19 he obtained the position of solo trombone of the Bilbao Orkestra Sinfonikoa. That same year he became professor of trombone at the Real Conservatorio Superior de Música de Madrid and later at the Conservatorio Profesional de Música "Teresa Berganza" in the same city.
He has collaborated with numerous symphonic ensembles, chamber music groups and Contemporary Music Ensembles: Orchestra of the RTVE, Orquesta Nacional de España, Orquesta Sinfónica de Madrid, Orquesta de la Comunidad de Madrid, Orquesta "Ciudad de Granada", Joven Orquesta Nacional de España, Virtuosos de Moscú, Orquestra de cambra del Teatre Lliure de Barcelona, Municipal Symphonic Band of Madrid, Capilla Real de Madrid, Capella de Ministrers, Orquesta Sinfónica de la Comunidad Valenciana "Les Arts", Spanish Brass-Luur metalls, Quatuor de trombones Millière, Ensemble Espai Sonor, Grup Mixtour, Smash Ensemble, etc.
He has given advanced courses and master classes all over Spain.
He has been invited as a specialist teacher in the Orquesta de Estudiantes de la Comunidad de Madrid, in the Joven Orquesta de la Región de Murcia, in the Orquesta Joven de Andalucía and in the Jove Orquestra de la Generalitat Valenciana.
Founding member of the Spanish Trombone Quartet, the "Iberbrass" Brass Quintet and the "Pianobrass" Quartet. With these groups he has performed in numerous festivals: IX Encounter of composers of COSICOVA, XII International Cycle of concerts "Ciudad de Navajas", International Festival of Music of Sabadell, XIII Serenates d'estiu de Cala Rajada (Palma de Mallorca), Festival d'orgue de Santa Maria de Maó (Menorca), 36º International Horn Symposium, etc.
Awarded in the chamber music competitions "Ciutat de Manresa", "Montserrat Alavedra" in Terrassa and in the prestigious "Wettbewerbs für Blechbläserquintette" in Moers (Germany).
He has performed as a soloist in numerous festivals: "VII Jornadas de informática y Electrónica musical" (CDMC), VII Ciclo de Música Contemporánea del Museo Vostell Malpartida , Festival "Punto de encuentro", "Concerts Phonos", "Festival Spanish Brass", "Spanish Brass Surround", Festival de Música Contemporánea de Alicante, Mostra Sonora de Sueca (Valencia), Cicle "5 segles de música a L'eliana (Valencia), XIII Jornadas de Música Contemporánea de Córdoba, Festival "Ensems" de Valencia, etc… As a member of several symphonic and chamber ensembles he has performed all over Spain and also in Italy, Portugal, Germany, France, Holland, etc…
He is guest soloist in 2005 by the ICMC (International Conference Music Computer).
He has premiered trombone works by Vicente Roncero, Andrés Lewin-Richter, Ricardo Climent, Gabriel Brcnic, Alexandra Gardner, Alejandro Trapero, Voro García, José Vicente Egea, Miguel Guerra, Francisco Zacarés and Ricardo Mollá.
He has premiered in Spain the Concertino for trombone and amplified ensemble by Aureliano Cattaneo and the work "Contextos" for solo trombone, violoncello, piano and percussion by Elena Mendoza, both together with the group "Espai sonor" directed by Voro García.
He has 2 cd's published: "Carlos Gil Ferrer, trombó", with works for trombone and electronics (ARS HARMONICA AH 192) and "Carlos Gil: Multaqa" (SB Produccions 016), with the collaboration of SBLM, Ensemble Espai Sonor, 2i2 Quartet and Stomvi Trombone Ensemble.
He has recorded the "Concertino for trombone and amplified Ensemble" by Aureliano Cattaneo (Stradivarius SVS 33893), Music Minus One II: "Alegrías" for trombone and cd by José Iges (José Iges "Sitting between chairs") and "Snapdragon" for trombone and electronics by Alexandra Gardner (Innova Recordings 662).
He was a member of the jury at the French National Competition "Antoine Courtois" in 2017.
He is currently professor of trombone at the "José Iturbi" Municipal Conservatory in Valencia and together with Inda Bonet (SBLM) of the "Aula de trombón" (www.auladetrombon.com) .
He is resident teacher at the Spanish Brass-Alzira Festival (www.sbalz.com), the Brassurround-Torrent Festival (www.brassurround.com) and the "Brass&wines" Festival (www.brassandwines.com).
He plays with instruments "Antoine Courtois": https://www.a-courtois.com/artist/carlos-gil-ferrer/
Interview with Carlos Gil:
Innovatrombone: Hello Carlos, from Innovatrombone we are delighted to chat with you.
Carlos Gil: Hi, it's a pleasure to talk to you. Thank you very much for giving me the opportunity to present my latest project.
Innovatrombone: Tell us, where does the name and origin of the "Sinergies" project come from?
Carlos Gil: Sinergies is a project that Luis González and I have wanted to carry out for several years. We both agree in some annual Festivals, especially those organized by our friends from Spanish Brass, and we have almost always played together in the concerts that take place within those Festivals. At first we played works already written for our two instruments, but little by little we were including some works composed specifically for us. The next step was to try to create a cd with all of them.
Sinergies is the name of one of these works, composed for us by José Rafael Pascual Vilaplana. The meaning of the word Sinergies as "working together to perform a complex task and achieve success", perfectly defines what my friend Luis González and I try to do when we play together. The name of the CD is a declaration of intentions and a firm purpose at the same time.
Cover photo of the new CD "Sinergies".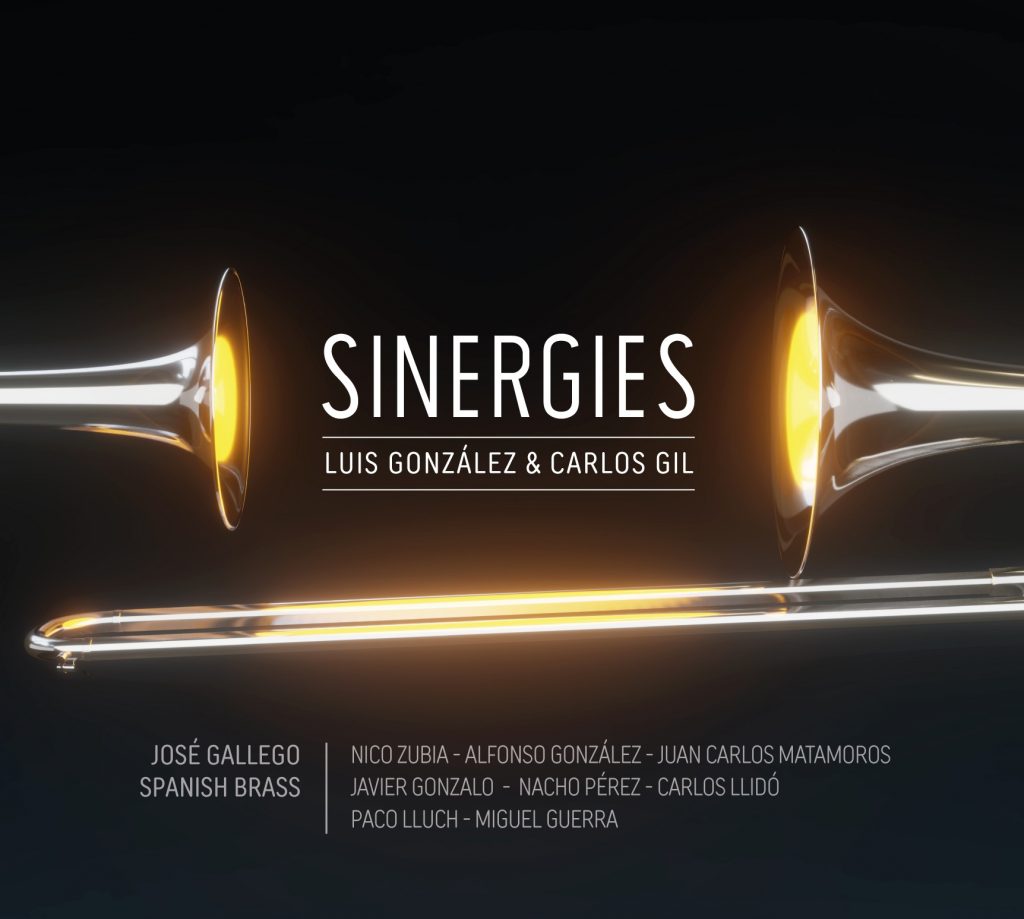 Innovatrombone: Could you briefly tell us about your personal experience with each of the pieces that compose the CD?
Carlos Gil: In "Sinergies" there are three pieces for trumpet, trombone and piano: "Zestoa" by Ricardo Mollá, "The Bright Sunshine" by Miguel Guerra and "Sinergies" by José R. Pascual Vilaplana.
"Zestoa" is the first piece expressly written for us and has in it all Ricardo's enormous talent: precious melodies, devilish rhythms, comic moments, technical difficulty, etc.
Miguel Guerra wrote us "The Bright Sunshine" shortly after he recorded "The Old Song" on my album "Multaqa" with 2i2 Quartet. Both Luis and I have an enormous affection for him, he understands the job with a simplicity that makes him great, and he always sees the positive side of things. Listen to the trumpet cadence he has written for Luis!
"Sinergies" is a jewel. It is so beautiful that one never gets tired of hearing it or playing it. In this case Luis González plays with fliscorno, and the filling with trombone is a delight. It has small surprises, in a given moment the trombone has an indication "alla Tomasi", surely you recognize it!
Ramón Cardo composed his "Tangasso" for trumpet, trombone and brass quintet. On the cd we recorded it with Spanish Brass. What to say? A real luxury, both the work and playing with Spanish. Ramón rocks, working with him and the quintet has been an unforgettable experience.
"Eastwind" by Jean-François Michel in version of trumpet quartet and trombone quartet is a real explosion. It has given us the opportunity to play with eight good friends. I'm sure it's one of the pieces that people will hear the most.
José Suñer's "Koishikawa" for trombone and piano is a discovery. It was commissioned by Inda Bonet for the 2nd ATE Young Trombonists Competition. I had the opportunity to premiere it in a Sbalz Festival, and I have always had the desire to record it.
"Aventuras del rebuzno" for solo trombone by Voro García. My interest in contemporary repertoire has always been more than evident. This work was commissioned by me and Inda Bonet for the ITF in Valencia and was premiered by my admired John Kenny. I have a good friendship with Voro since he composed "Multaqa" for me, and I have always known that "Aventuras del bruzno" was one of my objectives. I will remember a lot this summer and the hours of study I dedicated to it. Working with Voro has been great and has helped me a lot in every way.
Luis González has recorded "Klezmeralda" for trumpet and piano by Jean François Michel. Luis' facility to extract all the musicality of this work is brutal. He and Pepe Gallego have made a version of reference for trumpeters.
Pascual Piqueras and his "Popular Suite" will dazzle you. The fact of not playing, but being present in rehearsals and recording have made me enjoy enormously. I think the work of Luis and the three friends who accompany him is spectacular. Congratulations to them for their performance and to Pascual for his work.
Photo Carlos Gil and Luis González during the recording: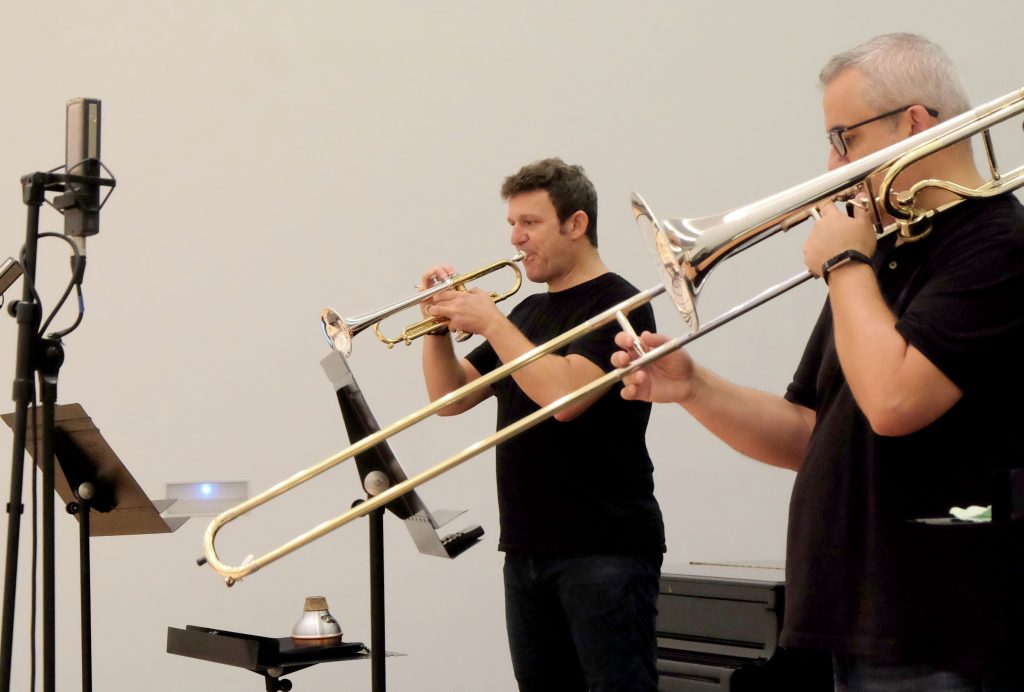 Innovatrombone: We would like to know how you lived the recording process, who are the artists who participated and how everything went?
Carlos Gil: The recording process is really concentrated in three days, but the work before reaching the recording days has been really long. Luis and I have tried to make the most of the summer to be able to work together.
Photo recording with collaborators: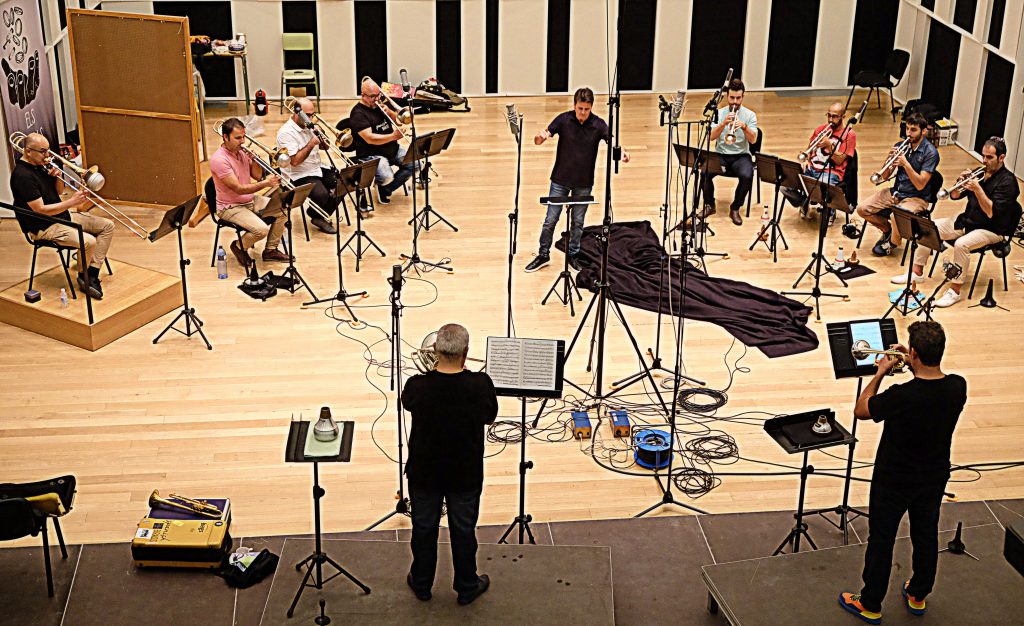 The recording days are exhausting and physically and emotionally exhausting. Fortunately, we were lucky enough to have the production of Spanish Brass, both Inda Bonet and Laura Gil made sure everything was organized perfectly, and that makes things a lot easier.
Great artists have participated in the CD: Spanish Brass, trumpeters Alfonso González and Nicolás Zubía, trombonists Juan Carlos Matamoros, Javier Gonzalo and Nacho Pérez, double bassist Paco Lluch and percussionist Carlos Llidó.
Photo collaborators: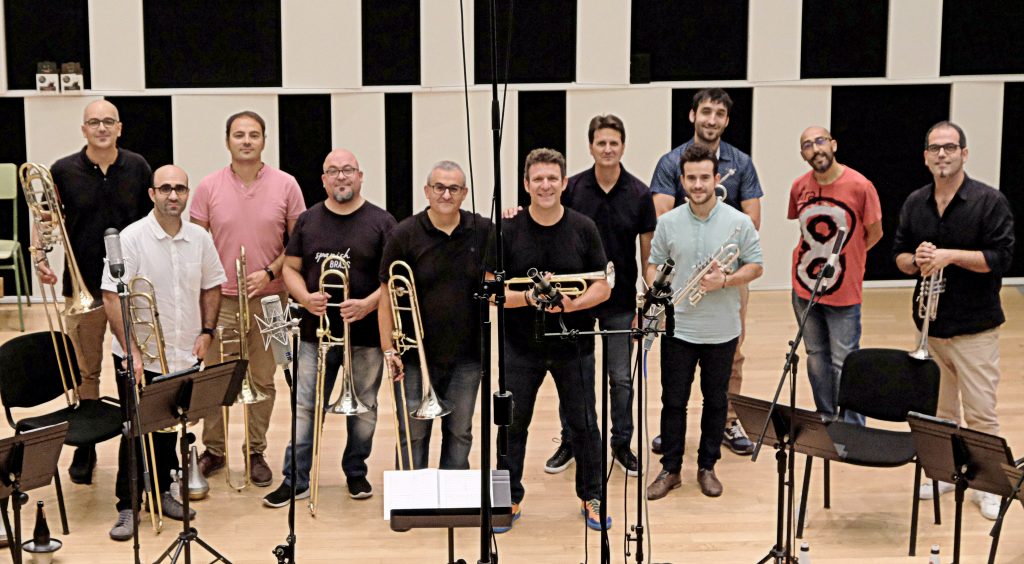 Pepe Gallego has participated in most of the pieces of the cd. He has done an impressive job. He is an incredible pianist and a guarantee of success.
Miguel Guerra took over the direction of Eastwind. As I said before, his simplicity and humility make him enormous.
I want to thank all of them for their implication and their effort to make this CD see the light.
Innovatrombone: Any anecdote that can be told?
Carlos Gil: The auditorium where we made the recording was next to a church. On Saturday we had to constantly interrupt the recording because the bells rang practically every 15 minutes, and they slipped into the recording.
Innovatrombone: How is the Verkami campaign developing?
Carlos Gil: We have approximately 7 days left and we have already reached the minimum amount we had set. I would like to encourage people to participate in it. Micro-patronage is an almost essential form of financing for this type of project, and you can feel like a participant collaborating in something as important as promoting culture. I hope that this interview contributes to the diffusion of our project and encourages people to collaborate in it.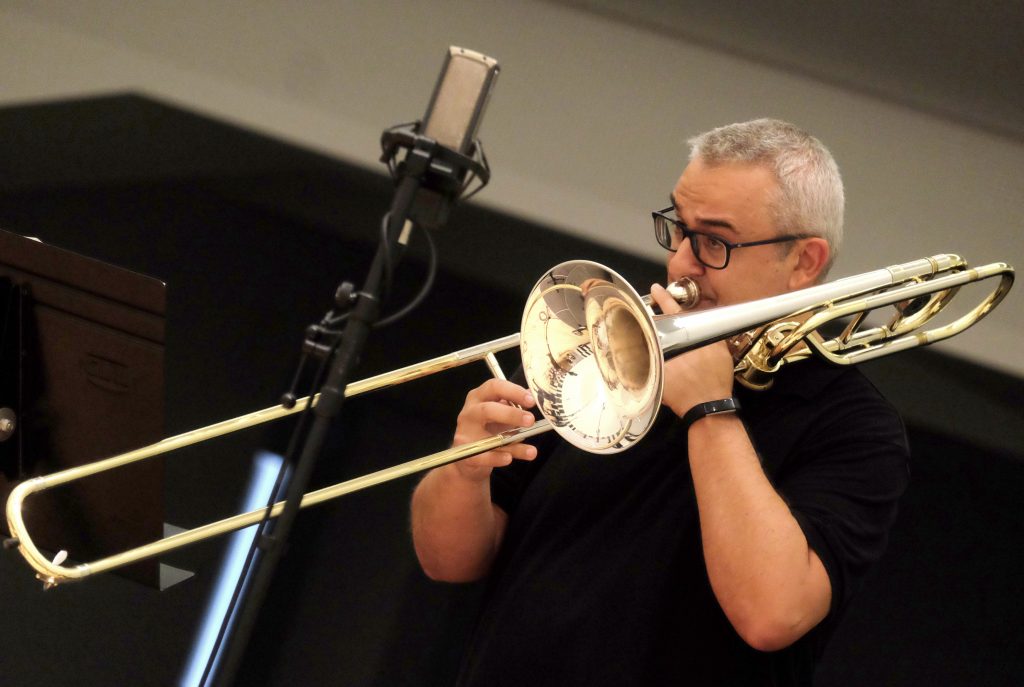 Innovatrombone: We will soon be able to attend a concert in which you present "Sinergies"?
Carlos Gil: Our first objective is to get the CD to go ahead and, as soon as we have it, we will obviously do the corresponding presentation concerts. We will send you the dates to Innovatrombone.
Innovatrombone: Anything else you would like to add to this interview?
Carlos Gil: Simply thank all the people who are contributing their grain of sand as patrons so that the project "Sinergies" can be carried out. At the moment there are about 200 people who have already done it.
Innovatrombone: Thank you very much Carlos Gil, from Innovatrombone we wish you the best of luck with this project and with all those who will come later, which by the way we will be delighted to spread from here to the whole Innovatrombone community.
Carlos Gil: I thank you again for this opportunity to present this latest project, and I also encourage you to continue with your own. Greetings to all the Innovatrombone team and to all the people who follow you.
Promotional video of "Sinergies".
You can access the following link to the Verkami Sinergies campaign by clicking here: : Sinergies Verkami
Complete discography of Carlos Gil clicking on the following link: Carlos Gil Ferrer-Discografía
If you are a trombonist join our community, create a trombonist profile, manage your ads and videos in the following link: :Registration
Visit our website:www.innovatrombone.com