Glissando trombone quartet:
It is a formation that was born in August 2002. The interest of its
members has always been to work and spread the word about this
ancestral chamber ensemble that is the "Trombone Quartet". Since its
foundation, the Glissando Trombone Quartet has performed everything
from Renaissance music to jazz, swing and contemporary music projects
written specifically for this type of training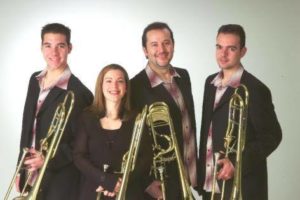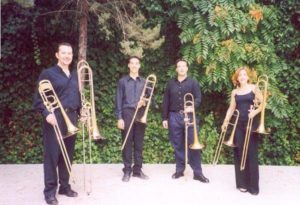 The Trombone is a very versatile instrument, as it adapts to
practically all eras and musical styles, but the Glissando Quartet of
Trombones goes further. This group strengthens the entire trombone
family by using the Alto Trombone, Tenor Trombone, Bass Trombone and
Double Bass Trombone. The group can afford to offer different
instrumental combinations always taking into account the times and
musical styles they play.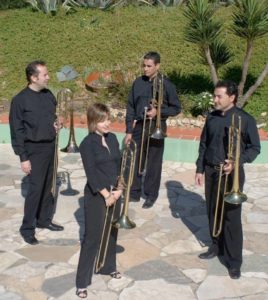 Since its creation in 2002, they have performed in various locations
in the Valencian Community and the Region of Murcia. The trombonists
Ricardo Casero, Brandt Attema, Carlos Gil, Jorgen van Rijen, Ben van
Dijk, Bones Apart, among others have played with them. And of course,
since its creation have been members of the quartet, Jaume Gavilán and
Isaac Sanabria (founding members) and later Juan Navarro, Fco. Javier
García and Jesús Escudero.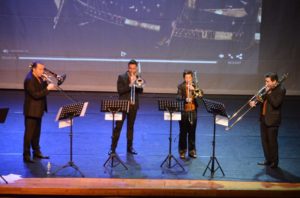 In this new era of the quartet with Isabel García, Javi Colomer
(founders), Jesus Fuertes and Toni Úbeda, we are committed to an
absolute renovation both aesthetically and musically, and at the same
time adapted to the current audience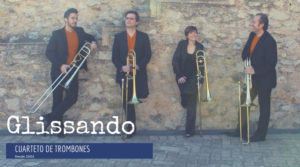 http://www.innovatrombone.com/ensembles/
Isabel Garcia Bataller
http://www.innovatrombone.com/trombonistas/isabel-garcia-bataller-130
Javier Colomer
http://www.innovatrombone.com/trombonistas/javier-colomer
Innovatrombone: