Innovatrombone is pleased to announce a new edition of the International Trombone Contest of Alsace.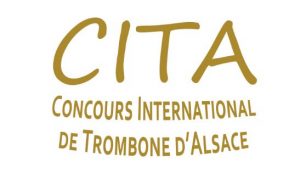 After the success of its first edition held during the days 10 to 14 May 2017, a new event will welcome talented trombonists from different parts of the world, offering the public the possibility of attending the premiere of a piece by the composer Vladimir Cosma in the final round.
The 2019 Alsace International Trombone Competition will be held in Kingersheim from 15 to 19 May. The city is marked by a great cultural influence, being a place of exchange and distribution to be located geographically very close to Switzerland and Germany.
Alsace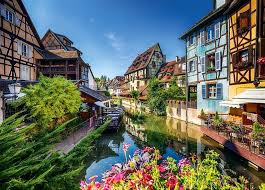 The International contest is open to young trombonists under the age of 30 from any nationality. Alsace 2019 is also an opportunity to discover international soloists who will participate in different concerts presented during the days of the event.
Attending trombonists will also be able to enjoy workshops and exhibitions of leading instrument brands.
Concerts 2019.
Vincenzo Paratore Thursday 16 May 20:30h.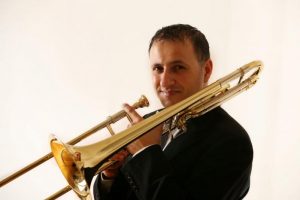 Trombonissimo Friday 17 May 20:30h.

Orchestra Military Music Grand Ducate and Jacques Mauger Saturday 18 May 20:30h.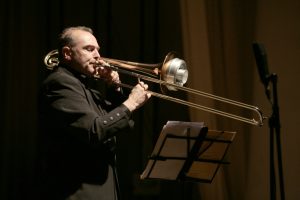 Final of the International Contest 2018. Sunday 19 May 15:00h.
With the participation of the military music Grand-Ducate of Luxembourg and its director Jean-Claude Braun.
Concert for trombone and Harmony Orchestra by Vladimir Cosma (World Premiere)
1st Prize: €5,000 2nd Prize: €2,500 3rd Prize: €1,500
City of Kingersheim prize (public vote): €1,000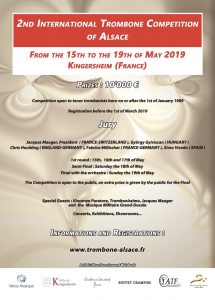 For this occasion the Alsace International Trombone Competition will have György Gyivicsan (Hungary) as members of the jury,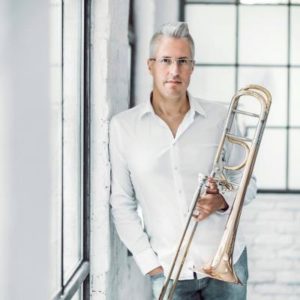 Chris Houlding (Germany- England),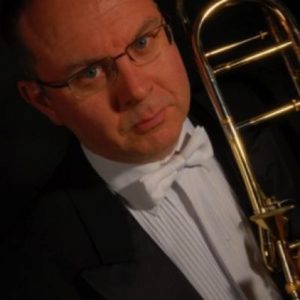 Fabrice Millischer (France-Germany),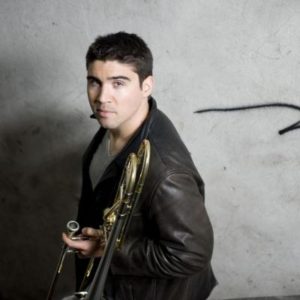 And two of our Innovatrombone collaborators: the president of the jury Jacques Mauger (France),
Profile of Jacques Mauger in Innovatrombone by clicking here: JACQUES MAUGER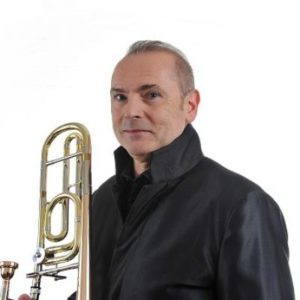 And Ximo Vicedo (Spain).Profile of Ximo Vicedo in Innovatrombone by clicking here: XIMO VICEDO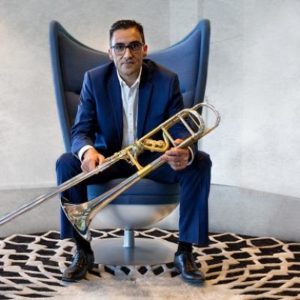 Edition 2017. 1st Prize, Collin Prichard (Australia).
Alexandre Mastrangelo, 2nd prize winner.
Tolga Akman, 3rd prize winner.
Marie Nøkleby Hanssen, 4th prize.
Competition Inscriptions INSCRIPCTIONS
Visit our Online Academy:ACADEMY
Join our community: INNOVATROMBONE TROMBONIST REGISTRATION