In innovatrombone we have the pleasure of chatting with one of our most prestigious collaborators.
Ximo Vicedo is trombone soloist of the Orquesta Sinfónica de Radio Televisión Española – Spanish Radio Television (RTVE) Symphony Orchestra -, professor at the Centro Superior de Música Katarina Gurska and at the Brass Academy Alicante and artist of the Stomvi brand.
But Vicedo's career has no limits, his presence in the most important national and international orchestras has earned him the admiration of composers who have created works to be interpreted by the artist.
In parallel to his activity as a soloist and thanks to his vocation for pedagogy, he gives Masterclasses and recitals all over the world.
Last March he premiered Christian Lindberg's "Double Concerto for Trumpet, Trombone and Orchestra" with the RTVE Symphony Orchestra in Madrid, a piece written and dedicated to Ximo Vicedo and Pacho Flores, conducted by the composer.
Ximo Vicedo's work, talent and effort have earned him awards such as the two silver medals at the Global Music Awards.
Ximo Vicedo makes a parenthesis in his busy agenda to tell us his vision on the panorama of culture, music and trombone in the XXI century.
Interview with Ximo Vicedo:
Innovatrombone: Right now you are an international reference of the trombone. What were the most remarkable moments of 2018 and what have we been through this year?
Ximo Vicedo: The truth is that there are many moments that I will never forget, such as my two tours around China to give recitals and master classes at Universities and Conservatories all over the country, being on the jury in International Competitions, such as the Chieri International Competition and the II International Trombone Competition of Alsace, classes at the Accademia Internazionale del Trombone in Portacomaro (Italy), at the Brass Academy Alicante…
The truth is that a lot of important things are happening to me lately and we have to keep working to continue that way.
Photo Tour China:
But above all, I was able to premiere a concert by Master Christian Lindberg "Un Sueño Morisco" (A Moorish Dream) double Concerto for trombone, trumpet and orchestra which, in addition, is dedicated to me and Pacho Flores, and I was able to premiere it with my orchestra, the RTVE Symphony Orchestra of which I have been a member since 1999 (this year is the 20th anniversary).
This year has also been special because I have contributed to the construction/design of a new Stomvi trombone, which was specially designed for the premiere of Un Sueño Morisco. Participating in something like this is great because you learn many things alongside Vicente Honorato and his team.
Also this year I started to work without paper scores and now I use new technologies. Since I read the music with the BlackBinder application, I no longer have to turn pages, because it's a scroll that passes automatically depending on the tempo I have introduced, I can make notes, I can do anything.
I recommend you to try it and see the great possibilities it can offer us and how it facilitates our work, in addition, it is very easy to use and intuitive, now I carry my music on my iPad. I've been using Blackbinder for a long time for my personal study and recitals and since a few months ago it has been introduced in the RTVE Symphony Orchestra. It is planned that the digitization of the whole orchestra will be completed in a period of three years and in this season we have started with the brass-wind section.
Photo Concert premiere of "Un Sueño Morisco"
Innovatrombone: we see you mention BlackBinder, and in fact, we've seen you on social networks with this application. It seems that more and more musicians trust even for live performances to have their scores on an iPad, what has been your reason for taking this step you too?
Ximo Vicedo: I really like technology and when I discovered BlackBinder I said to myself, "Why not try it? It was always loaded with many scores to study, for recitals, and so on. Now I only go with the iPad and I have everything I need in one device. With BlackBinder I can make annotations, make changes in the score without scratches, I can delete previous annotations, change them and also I do not have to turn pages, because the music is happening little by little because it is an automatic scroll, turns with the metronome speed that I have programmed, I can organize my scores in folders, we can do endless things. It makes our work easier, it's a help and a new work tool. One thing to highlight is that we have a large and interesting library of free scores at our fingertips.
There are other Apps, but I'm very happy with Blackbinder and I recommend it 100% because it's also the only one with automatic scroll.
with what composers write, to tell a story with music, that music reaches the public with the feelings that we want to express.
We must be constant in our work, it is not worth studying extremely hard when we have tests, exams, concerts … but a daily and constant work. It is a bit like the sportsmen, we have to prepare with time our commitments, where there are weeks that we study more, others in which we have some rest /relax (relaxed study), make breaks between our study time.
One important thing is to work our mind, our concentration and also do some sport so that our muscles are strong and we can prevent/avoid injuries.
Innovatrombone: of all your successes, which one are you most proud of?
Ximo Vicedo: I'm proud of all of them because each one of them is not alone but chained. It is the result of a serious, constant work, knowing each of the steps but not the end of the road, a long road, without pause and with an end that is not decided.
But if I have to say one…that moment is to see my CD, "Lo soñado", come to light, of which I am very proud, but the road does not end there, rather it begins. This phrase defines it very well: "Lo soñado" is the goal reached, but it also marks a beginning, opens doors, points out horizons. "Lo soñado" is to have achieved it and to continue. And to continue without mistakes to bind us.
Cover CD "Lo soñado"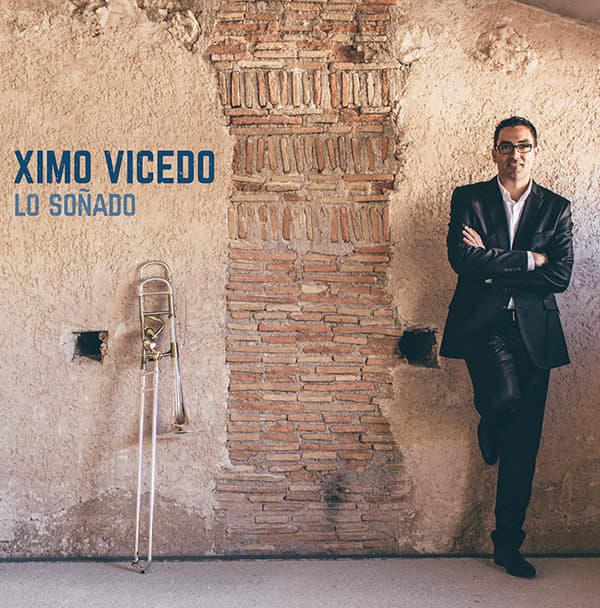 Innovatrombone: What do you learn the most from successes or failures?
Ximo Vicedo: We learn from everything and we must learn from what we do well and from what we do badly. Although failures are often more present and we learn more. Successes are important, but some failure from time to time makes us keep our feet on the ground. We must never forget who we are and where we came from.
Innovatrombone: Is there a special moment that has marked you as a trombonist?
Ximo Vicedo: Special moments that mark you as a trombonist there are many, not just one. If it were only one we would not advance. One of them was playing the first time in an orchestra, the first time as a soloist with an orchestra, the first times of something you like are always special. What is always special for me and I try to do it every day is to enjoy the music, to communicate the feelings with music, that's special for musicians.
Innovatrombone: You travel around the world as a teacher. What are the differences between cultures when it comes to teaching music?
Ximo Vicedo: The truth is that each country is different even if we play the same instrument, the way of life is noticeable, the climate of that country is noticeable, the different character of each of the countries, the language because it influences us at the time of articulation and vocalization, the culture of each country, everything influences. There are places where there is more tendency to teach more orchestra repertoire and less concerts, other places the other way around, others have enough influence from the USA, others from Europe but the good thing is that the end is the same.
Innovatrombone: What do you export from the great Spanish trombonists?
Ximo Vicedo: I try to export our way of seeing music, our way of seeing life, to export our culture, our music, that of Spanish composers who outside Spain value it very much, because we have a lot of musical wealth. We also have a cheerful character but with a desire to learn and to give everything we have.
Innovatrombone: What do you learn?
Ximo Vicedo: I learn from every trip, from every class, in Spain and abroad, I try to be in continuous learning, I try to learn from everything and everyone. Knowledge teaches us to value what we really have in Spain, many times we underestimate ourselves and think that what is outside is better, and this is not so. Here is a very good trombone school that has nothing to envy to those outside. Let's start to value each other and not crush each other.
Innovatrombone: What are your next projects?
Ximo Vicedo: My closest project is the solo concert at IFOB Pamplona on June 16, 2019 at the Teatro Gayarre, where I will perform Fernando Velázquez's Concert for Trombone and Band together with the Banda Municipal de Castellón and under the baton of its titular conductor Marcel Ortega i Martí. In this concert I will play with two different trombones, from the firm Stomvi, because I look for different timbres in each part of the concert and there is a movement in which I needed to have another timbre, another type of sound. Also this concert, as usual, I will play with the digital score, with BlackBinder, so I am more free without being worried about turning the pages.
IFOB Poster 2019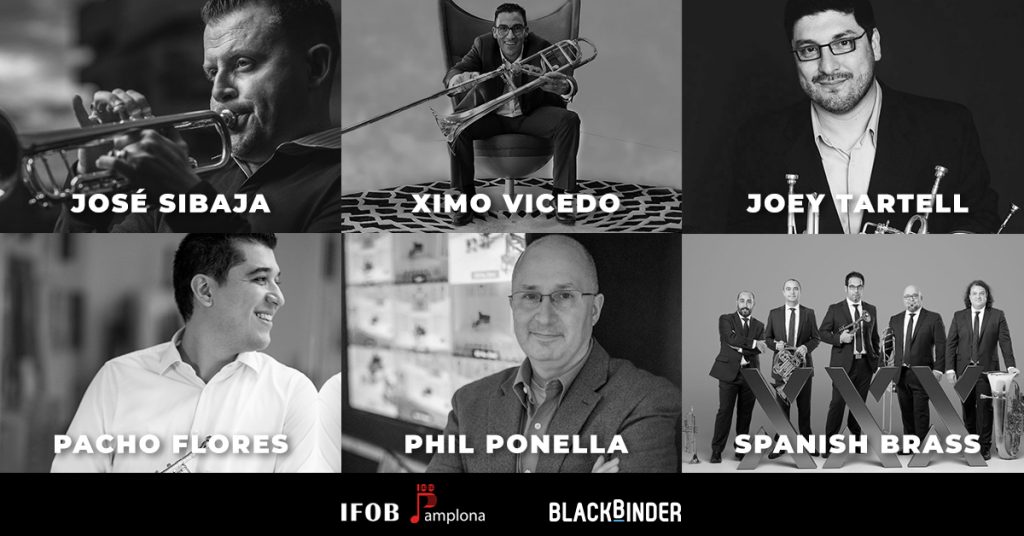 Invitation of Ximo Vicedo to the IFOB 2019:
Other commitments are: teacher in the Joven Orquesta de Canarias, guest artist at the Encuentro de Trombonistas Jiennenses, guest artist at the Jinbao Art Brass Brass Festival held in Tianjin (China) where I will give master classes, I will do a recital with piano, competition jury.
Next season I will repeat together with Pacho Flores the Double Concerto for Trombone, Trumpet and Orchestra by Christian Lindberg "Un Sueño Morisco" with ADDA Simfònica in Alicante, I will also play as soloist the Concert per a Trombó i Orquesta by Salvador Brotons with a Spanish orchestra, in addition to recording my next CD as soloist but this time with Orchestra, recitals and much more…
Innovatrombone: In all these projects we wish you much success and we thank you for attending us. At this point, and before saying goodbye, we can anticipate that soon we will meet again to talk about your trombone and the trombone of one of your fellow section members in the Orquesta Sinfónica de Radio Televisión Española, another of our great collaborators, Stéphane Loyer.
Ximo Vicedo: Many thanks once again to Innovatrombone, it has been a pleasure and so it is, in a few weeks we will meet again to talk about Stéphane's trombone and mine.
Greetings to all and see you soon!
From Innovatrombone we say goodbye with this video in which Ximo Vicedo interprets Te bon e Paiporta, by the composer F.Ferran.
Profile of Ximo Vicedo in Innovatrombone: Ximo Vicedo
Ximo Vicedo website: XimoVicedo.com
If you are a trombonist join our community at the following link: Registration
Visit our website: www.innovatrombone.com