Our collaborator for innovatrombone Javier Yera presents us this interesting documentation about Humberto Martínez's trombone solo piece.
Humberto Martinez Aguilar (1939-2016)
Humberto Martínez was born in Valencia and when he was only 3 years old his family moved to Madrid. He studied at the Conservatory of Music in Madrid with Professor Leopoldo Cuesta. He took the position of euphonium soloist at Banda Municipal de Madrid and trombone soloist at "Orquesta Sinfónica de RTVE" since 1965, occupying this position for three years. He attended numerous instrumental improvement courses all over Spain and worked with soloists and conductors of national and international prestige. His discography includes all sectors and styles of music. As a pedagogue he edited several notebooks for the study of the trombone, under the title "Aula de Trombón". He composed two trombone quartets, Zorongo and Valencian, a Concertino for Trombone and Piano and Safor, for trombone solo. Also several symphonic compositions for band and the string quartet "Cosicova".
Safor:
In the summer of 1989, the composer of this piece was attending a trombone course in the valencian region of La Safor. During this improvement course, a student suggested Humberto Martinez to compose a trombone solo piece. Every day of the course, upon arriving home, the composer was engaged in writing the composition. When the course came to an end he presented this piece to the students and he performed it himself.
The piece is titled "Safor" in honour of that region of Valencia and during all this time the manuscript has passed through many trombonists who have played it in concerts, competitions and courses. In 1993, at the Conservatorio Superior de Música de Madrid, Juan B. Abad organized a masterclass with the composer of the piece, in which he explained how it should be studied and interpreted. Finally he included this musical work in the higher degree program  and it is being prepared by many teachers to their students.
On the occasion of the International Trombone Festival 2015 in Valencia, Professor Javier Yera recovered this musical work to be performed at the festival and worked alongside the composer to review the music sheet and provide the official release he deserved. Finally, it has been copied from the original manuscript by Gerardo Navas, a trombone student at the Conservatorio Superior de Música de Jaén, to be edited in the ITF2015 album.
The work is composed of three movements: the first is a "cantabile " free theme which develops as a cadence, with trombone typical sound effects such as glissandos, and others like flutter-tonguing, trills and mordents. Besides, in some passages the hand is used to cover the pavilion and get another sound effect.
The second movement, begins with a rhythmic and very light melody, with an air of ancient dance, continuing with other themes that recall the medieval heraldic pieces  and a trio "dolce" and "cantabile" with jazzy airs that give way to the new theme with a dynamic inversion . This movement represents a person who comes from far away singing, arrives at the marcato to juggle, then sings a sweet melody in the trio and finishes with the "cantato" again. This second movement ends with a bridge cadence that introduces us into the third movement, which is a re-exposure with variations on the initial cadence. The piece ends with a brief final coda, very fast and with a powerful resolution.
Javier Yera Trombone professor at the Conservatorio Superior de Música de Jaén.
Original manuscript: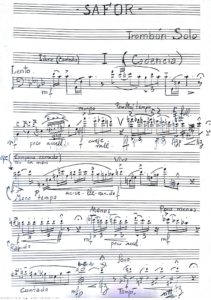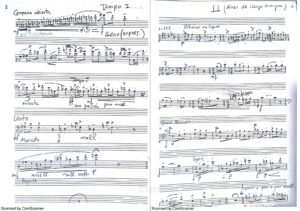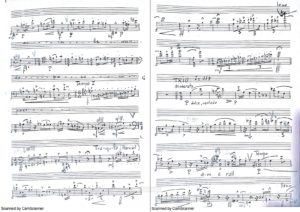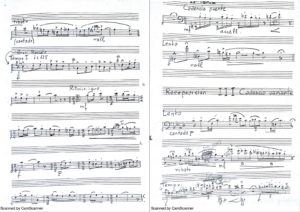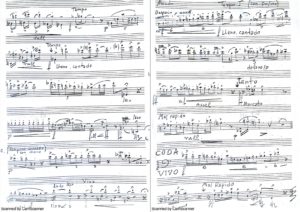 Sheet music transcribed by Gerardo Navas Ortiz (2015).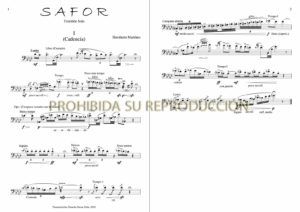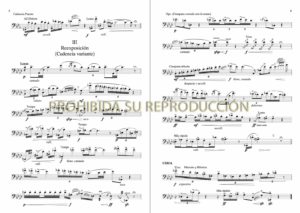 Safor "at the International Trombone Festival – Valencia 2015, performed by Javier Yera:
If you are a trombonist join our community:Login